The U.S. Military Academy was named as one of the U.S. colleges and universities that produced the most 2021-2022 Fulbright U.S. Students.
The announcement comes as welcome news for the prestigious Academy, headquartered in West Point, New York.
Each year, the U.S. Department of State's Bureau of Educational and Cultural Affairs announces the top producing institutions for the Fulbright Program, the U.S. government's flagship international educational exchange program.
According to Academy officials, seven students from the U.S. Military Academy received Fulbright awards for the academic year 2021. This is the third time that West Point has been recognized as a Fulbright Scholar top producer. Since participating in the Fulbright Scholarship Program in 2002, 45 cadets have been awarded the scholarship, and 35 accepted and completed their respective graduate programs. The class of 2022 Fulbright awardees are still being considered and will be named in the next few months.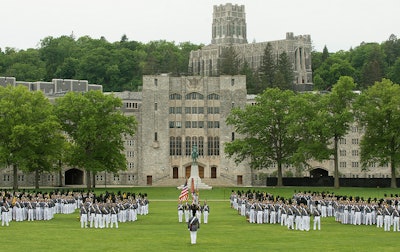 "I am proud of our Fulbright Scholars and the entire team supporting them," said Brig. Gen. Shane Reeves, dean of the Academic Board at the U.S. Military Academy. "Studying all over the world through the Fulbright Scholarship provides much-needed opportunities for building strong partnerships with our allies and diving deep into complex problems critical to our Army and nation."
The Fulbright Program was established over 75 years ago to increase mutual understanding between the people of the United States and the people of other countries. Fulbright is the world's largest and most diverse international educational exchange program. The primary source of funding for the Fulbright Program is an annual appropriation made by the U.S. Congress to the U.S. Department of State's Bureau of Educational and Cultural Affairs.
Since its inception in 1946, over 400,000 people from all backgrounds—recent university graduates, teachers, scientists and researchers, artists, and more—have participated in the Fulbright Program and returned to their home countries with an expanded worldview, a deep appreciation for their host country and its people, and a new network of colleagues and friends.
Fulbright is active in more than 160 countries worldwide and partners with participating governments, host institutions, corporations, and foundations in foreign countries and in the United States. Alumni work to make a positive impact on their communities, sectors, and the world and have included 40 heads of state or government, 61 Nobel Laureates, 89 Pulitzer Prize winners, 76 MacArthur Fellows, and countless leaders and changemakers who carry forward the Fulbright mission of enhancing mutual understanding.