Freshmen enrollment in the Junior Reserve Officers' Training Corps (JROTC) drastically fell this academic year at some Chicago high schools after district leaders took action against schools that effectively forced first-year students to participate, according to a Jan. 5 report from the district's watchdog, WBEZ Chicago reported.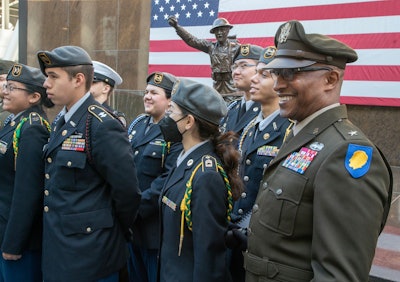 Last year, Chicago Public Schools (CPS) had sought to end automatic enrollment in the JROTC program after an investigation by the district's Office of Inspector General (OIG) found that nearly all freshmen at some South and West Side high schools were put in JROTC with no choice – it was often a substitute for physical education classes.
In 2021, Chalkbeat reported that hundreds of Chicago students at 10 predominantly Black and Latino high schools were being enrolled in JROTC by default. This drew criticism – the practice was seen by some as guiding students from under-resourced schools toward military careers.
Freshmen JROTC enrollment decreased significantly – by more than two-thirds (639 to 211) between the 2020-21 school year and this year – at eight schools where automatic freshmen enrollment was most widespread, according to the OIG.
After the investigation, CPS also mandated that all high schools offer physical education to all students. And parental written consent is now required for students to join JROTC.
Chicago's JROTC program has been receiving much backlash in recent memory, with the former head of CPS' JROTC program resigning last year after it was discovered that he failed to report sex abuse allegations against a military instructor.
This default JROTC enrollment issue seems to extend to a national scale as well. The New York Times reported that thousands of students in high schools across the U.S. were being placed in the military program automatically, primarily in schools with large nonwhite student and low-income households populations.
Wiley Johnson, former chair of the local school council at King College Prep, said that many CPS schools don't have funding to provide career and extracurricular programs, while JROTC programs were subsidized by the Department of Defense (DoD).
"That issue hasn't gone away," Johnson said. "Until that is addressed, you're still going to see JROTC programs across the nation, not just in Chicago, in primarily minority or poor communities. And that's problematic."