Applications to the U.S. Air Force Academy's (AFA) class of 2027 drastically increased last year, Military.com reported.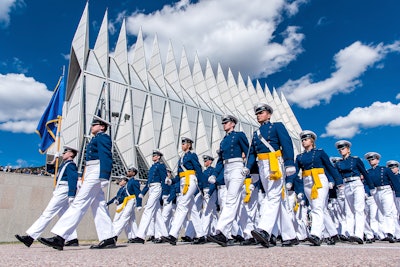 More than 10,000 students applied as of the Dec. 31 deadline, a 21% increase from the more than 8,300 applicants the previous year, Air Force Academy spokesperson Dean Miller said. 8,300 had been a 28% decrease from the more than 11,600 applicants in the class of 2025.
The low application volume before was partly due to the COVID-19 pandemic limiting in-person events service academies could hold for high school students, according to the AFA.
"USAFA Admissions was able to conduct and attend more in-person recruiting events for this next class of future leaders," Col. Arthur Primas Jr., AFA director of admissions, said in an email statement. "We believe our ability to directly influence young men and women, both on campus and in the communities, played a significant role in the increase in applications this year."
Other service academies have also faced application drops in recent years. The U.S. Naval Academy saw a 20% decrease for its class of 2026, and the U.S. Military Academy at West Point had an approximately a 10% decrease from the prior year.
Similar declines took place in the civilian world as well, with undergraduate enrollment falling by more than 662,000 students (4.7%) from spring 2021, according to the National Student Clearinghouse Research Center.