The U.S military and St. Augustine's University partnered to teach cadets about the key contributions of Black military men and women as part of the 3rd Annual North Carolina ROTC Roundtable and the African American Military and Veterans Lineage Day, Feb. 9.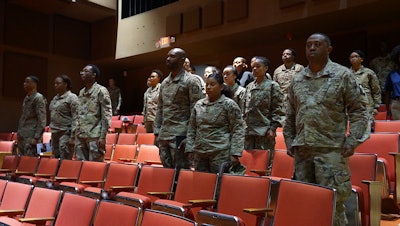 Nearly 200 ROTC cadets from historically Black colleges and universities (HBCUs) and JROTC from high schools across North Carolina gathered at the school, joined by the Falcon Battalion and other schools in the state.
The military organizations involved were the NC Department of Military and Veterans Affairs (NC DMVA), the Division of Archives, and the NC Department Natural and Cultural Resources, and the Association of the United States Army (AUSA).
The schools that attended were St. Augustine's University; Shaw University; A&T State University; NC Wesleyan University; William Peace University; Fayetteville State University; Goldsboro High School; Enloe High School; and Wake Forest High School.
Panelists for the ROTC Roundtable included Lt. Gen. Walter E. Gaskin, USMC, (Ret.), secretary of the NC Department of Military and Veterans Affairs; Major Gen. David Wilson, commanding general of the U.S. Army Sustainment Command; Col. Wendy Rivers, division chief of the Department of Army Inspector General; Col. Michael G. McLendon, Army professor of military science at The Citadel Military College; BG Arnold N. Gordon-Bray, U.S. Army, (Ret.) of ANBG Consulting LLC, NC Military Affairs Commission; and Command Sgt. Major Robert T. Craven, 26th command sergeant major of the U.S. Corps of Cadets at the US Military Academy West Point.
The panelists spoke about their own career challenges because of their race and backgrounds, their motivations, and their successes.
"You have what it takes," Gaskin said. "Don't ever doubt yourself because of your skin color or your background. Know what you are doing. Do your job and know that advice is always right."
Wilson discussed what he saw as the two different kinds of trust.
"Professional trust is your stars, bars, and resume, but personal trust is the name on your chest, and that's earned," Wilson said. "You can't build it if you don't care. C is for community, A is affirmation, R is for recognition, and E is by example."
Other panelists advised cadets to ask questions and practice openness, engagement with leaders, empathy, respect, and honoring commitments.
"It's important for you to see who we are," Rivers said, "Engage with key leaders. Ask questions. Be open. We didn't see it, but you have a chance to learn from us. You can be anything you want to be if you focus on your passion. Know the sacrifices people made before you. Dig into the history. You've got to know where we've been to know where you're going. We aspire to inspire before we expire."
Craven said: "You have to see inspiration to be inspired. When you are inspired, well that's life changing. Don't doubt your power because in doing so, you give power to your doubts. You need honest people to keep you honest. Love yourself and keep mentors around."
NC DMVA also gave St. Augustine's Falcon Battalion a framed proclamation from North C Gov. Roy Cooper (D) designating Feb. 9 as "North Carolina African American Military and Veterans Lineage Day."