The U.S. Naval Academy's engineering building has been renamed Carter Hall in honor of former lieutenant and Class of 1947 alum U.S. President Jimmy Carter, who served in the Navy 1946-1953 and was president 1977-1981, Military.com reported.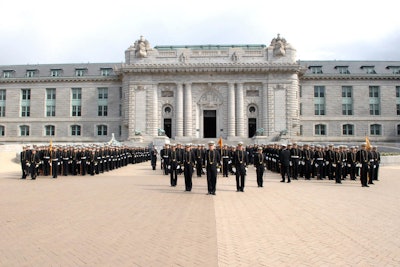 This change to what was formerly Maury Hall comes as part of the efforts of a congressionally mandated Naming Commission, which supported removing Confederate names from Defense Department buildings and installations.
"When Secretary [Lloyd] Austin directed us to implement the recommendations of the Naming Commission, he instructed us to give proud new names. Names that echo with honor, patriotism and history. Names that will inspire generations of service members to defend our democracy and our Constitution," Navy Secretary Carlos Del Toro said. "Today, on the Friday before Presidents Day weekend, that is exactly what we are doing. I can think of no one more worthy of this renaming than President Jimmy Carter."
Maury Hall – completed in 1907 – was originally named for Matthew Fontaine Maury, who was considered the father of the science of oceanography, a near-30-year Navy veteran, and member of the Confederate Navy.
The commission also recommended the renaming of superintendent's residence Buchanan House and Buchanan Road, named after Confederate commander Franklin Buchanan, though Del Toro made no mention of such name changes.