Three West Point Class of 2023 cadets have been selected as Knight-Hennessy Scholars, allowing them to engage in graduate study at Stanford University after graduation and commissioning May 27.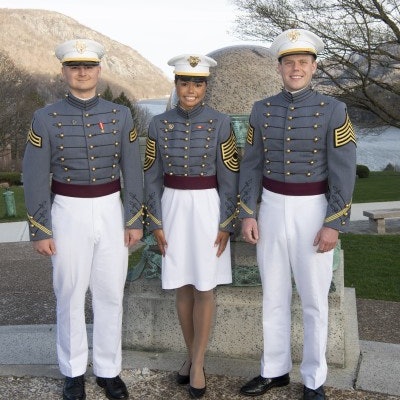 Every year, the Knight-Hennessy Scholars Program, one of the largest fully endowed scholarship programs in the world, selects up to 100 high-achieving students globally who demonstrate leadership and civic commitment. The recipients are offered full funding to pursue graduate education at Stanford and become global leaders.  
Alma Cooper, a mathematical science major, focused her research on the U.S. Army's recruiting crisis and the cost-benefit analysis of raising the allowed body mass index (BMI) standards. She has in the past interned with the Center for Army Analysis and has worked with West Point's Leadership, Ethics, and Diversity in STEM program. At Stanford, Cooper will pursue an M.S. in statistics-data science.
Pierce Garver, a space science major, focused on understanding the universe through physics and improving the lives of others through space exploration. He previously interned with Lockheed Martin, assisting in the development of light detection and ranging imaging with digital holography. At Stanford, Garver will study aeronautics and astronautics. 
Christopher Sowinski, a mechanical engineering major and aeronautical engineering minor, focused his research on structural health monitoring via sensor implementation and modeling within aeronautical engineering. He has interned with experimental test pilots of Redstone Arsenal. At Stanford, he will pursue an M.S. in aeronautics and astronautics.