Vice President Kamala Harris spoke about the diversity of the American armed forces as the military struggles over its identity in the modern landscape during her May 27 commencement speech at the U.S. Military Academy at West Point, The New York Times reported.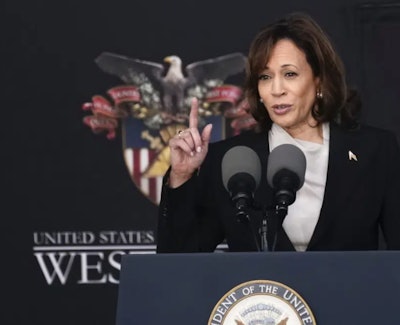 Harris – the first woman to address a graduating class at West Point – spoke about U.S. military's evolution in the past 75 years from an institution dominated by white men to one more open to women and minority groups. When the class of 2023 entered four years ago, 23% were women and 34% were members of minority groups.
"To the class of 2023 and to all the cadets here today: You stand on the broad shoulders of generations of Americans who have worn the uniform, including many barrier breakers and trailblazers," Harris said. "In fact, this year, you celebrate the 75th anniversary of the integration of women in the military, as well as the desegregation of our military.
"These milestones are a reminder of a fundamental truth: Our military is strongest when it fully reflects the people of America."
Harris's speech comes at a time of reflection and change for the U.S. military, with Army bases named after Confederate generals being renamed and President Biden nominating Gen. Charles Q. Brown Jr. as chairman of the Joint Chiefs of Staff. If and when Brown steps into the role and joins Defense Secretary Lloyd J. Austin III, the top civilian and uniformed leaders at the Pentagon will be Black men for the first time.
"Our military is the strongest in the world," Harris said. "Our military is a force that underwrites global stability and our national security. And it is this pillar of our strength where you, cadets, have dedicated yourself to lead. Essential to our strength is the role, then, that you will play in defending our nation's highest ideals."
Meanwhile, conservative critics continue to condemn DEI efforts. Sen. Tommy Tuberville (R-Alabama) said the Biden administration's efforts to promote diversity were hurting recruitment and that Democrats were "attacking our military, saying we need to get out the white extremists, the white nationalists, people that don't believe in our agenda."