Pentagon officials have clarified rules prohibiting service members from engaging in extremist activities by issuing a more detailed policy that ensures "troops are clear on what they can and can't do, while still protecting their First Amendment right to free speech," reports NBC Boston.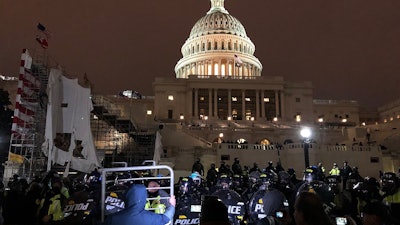 The newly released rules come nearly a year after a number of service members — estimated to be fewer than 100 — participated in the U.S. Capitol riots on Jan. 6. Additionally, Pentagon officials say they are preparing for rising extremism among service members pointing to recent spikes in domestic violent extremism.
According to NBC Boston, the new policy addresses how service members must conduct themselves on social media by banning active posting, reposting or "liking" of extremist views that advocate for terrorism or support overthrowing the government. The new rules list six groups of extremist activities and 14 different definitions that constitute "active participation."
"Active participation," according to the new policy, is a key phrase that makes a distinction between behavior and ideology. In other words, service members can still "have whatever political, religious or other beliefs that they want, but their actions and behavior are governed," writes NBC. For example, members can own extremist materials, but they can't distribute or fund them.
Determining whether a service member is actively participating in extremist activities based on those rules' definitions will be left to commanders, who will take each case's circumstances into account.
While Defense Secretary Lloyd Austin told the force that he believes the number of service members who participate in extremism is small, he still cautioned that "even the actions of a few can have an outsized impact on unit cohesion, morale and readiness - and the physical harm some of these activities can engender can undermine the safety of our people," reports NBC.