President Joe Biden is expected to nominate Gen. C.Q. Brown to be the next Joint Chiefs chair, Politico reported.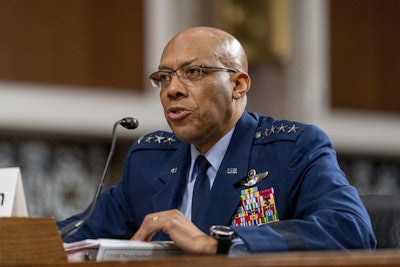 Brown is the U.S. Air Force's top officer and the first Black person to lead a military branch. If confirmed, he would also become the second Black Joint Chiefs chair.
It is unclear when Biden plans to make an announcement, said a Democratic lawmaker, a congressional aide, and a former Defense Department official familiar with the White House's planning. After former President Donald Trump announced his plan to nominate Gen. Mark Milley months earlier than expected, Biden wanted to get back on a more normal timeline, the former DoD official said.
"When President Biden makes a final decision, he will inform the person selected and then announce it publicly," a National Security Council spokesperson said. "That hasn't happened yet."
As Joint Chiefs chair, Brown would be top military adviser to Biden as the president tries to balance the threat of China with the need to provide the Ukrainian military with weaponry and equipment.
As head of U.S. Air Forces Central Command, he has commanded troops in the Middle East. He also served as a director of operations for strategic deterrence and nuclear integration at U.S. Air Forces in Europe, during Russia's illegal 2014 annexation of Crimea. Additionally, he was chief of Pacific Air Forces.