Alexandria Technical and Community College has landed $1.1 million in federal funding to develop Minnesota's Global Military Learning Network.
According to officials, the Minnesota Global Military Learning Network will help service members leverage their education while serving to streamline degree completion while enlisted and for veterans to complete an area of study and enter the workforce quickly. More service members are being encouraged to attend college while serving, aiming to reduce the time and cost required to earn a degree by awarding credit for military learning and occupational experiences while increasing the number of military graduates available to meet workforce needs. The money will also eliminate the cost of remedial coursework and streamline military admissions processes, making it easy for service members to locate completion degree options. Money will also be used to develop a secure military-friendly enrollment portal.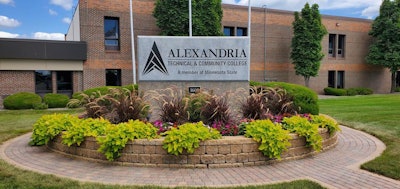 Alexandria College President Michael Seymour says it is an exciting opportunity for the college and its partners to "innovate how we deliver education and award degrees to Minnesota military servicemembers and veterans." The funds will support a pilot project that will "serve as a proof of concept for all of Minnesota's higher education sector." He thanked U.S. Senators Tina Smith and Amy Klobuchar for helping to secure the funds.
"We expect the Global Military Learning Network project to increase enrollment, diversify our student body, and contribute to the nation's workforce," said Seymour.
"There are few degree programs in the state that fully award credit for prior military learning," added Dr. Tamara Arnott, dean of Educational Services at Alexandria College. "In combination with leveraging existing Minnesota State resources and infrastructure, this project will provide up to 45 credits for specified technical programs by aligning/articulating military training and experience with career-oriented civilian degree programs."
Alexandria Technical and Community College, along with its Distance Minnesota partners (Bemidji State University, Northwest Technical College, and Northland Technical and Community College), will jointly provide leadership in the development of a military transfer curriculum portal that will provide a complete analysis of Military Occupational Codes to degree completion programs.