Purdue University has joined a program to provide educational benefits to eligible federal government employees and immediate family members for a wide variety of online programs – from bachelor's and master's degrees to professional certifications and continuing education courses.
Purdue is now part of the Federal Academic Alliance overseen by the U.S. Office of Personnel Management. Federal Civil Service employees, their spouses and dependents are eligible for Purdue's program, which includes an array of online educational offerings through Purdue's flagship West Lafayette campus and Purdue University Global, the Purdue system's adult learner-oriented virtual campus.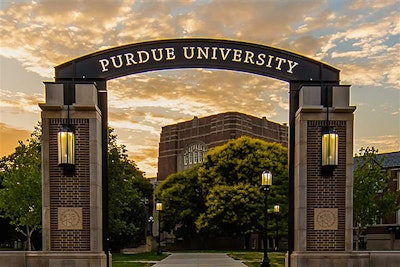 Federal government employees can access available online educational offerings from Purdue and get information on how to enroll and how to obtain educational benefits, such as scholarships and reduced tuition rates, at https://fed.online.purdue.edu. The amount varies by program.
In conjunction with Public Service Recognition Week, the Federal Academic Alliance will be holding a Virtual Education and Professional Development Symposium from 9 a.m. to 6 p.m. ET May 5. For more information and to register, visit https://fedgovedfair.vfairs.com.
Purdue, which will participate in the symposium, offers scholarships or tuition reductions on online undergraduate and graduate degrees, certificates and micro-credentials for educational advancement, professional development and career enhancement and to meet the needs of individuals' organizations. Purdue's offerings are expected to grow substantially over time as the university adds online programs and its alliance with the federal government continues to develop.
Some examples of current offerings from Purdue include degrees and certifications in engineering, management, computer science, law, nursing and public health, as well as Agile and Lean methodologies, project management, and in-demand skills such as cybersecurity and data science and analytics that are applicable in numerous jobs.
The Federal Academic Alliance program serves federal government employees with high-quality educational resources that can further their careers while at the same time addressing federal workplace challenges and closing federal government skills gaps in mission-critical areas and in positions related to science, technology, engineering and mathematics (STEM).
"Purdue University is pleased to be part of the Federal Academic Alliance and make rigorous, high-quality and career-enhancing educational opportunities more affordable for potentially thousands of federal employees and their families," said Gary Bertoline, Purdue's senior vice president for Purdue Online and learning innovation.
"This collaboration aligns with the Purdue Global mission to serve adult learners who have work experience and are looking to enhance their education and potentially bolster their career path," Purdue Global Chancellor Frank Dooley said. "We welcome these federal employees and their families to the Purdue family."