The Defense Department inspector general is launching a probe into whether the U.S. military is screening recruits for any past extremist or other banned behaviors, reports Stars and Stripes.
Earlier this month, the Pentagon had clarified its rules on extremist behavior in the military nearly a year after some service members — estimated to be fewer than 100 — participated in the U.S. Capitol riots on Jan. 6, 2021.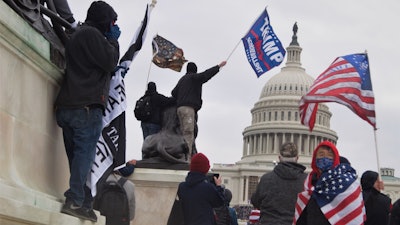 "The objective of this audit is to determine whether military service recruiting organizations screened applicants for supremacist, extremist, and criminal gang behavior, according to DOD and military service policies and procedures," Richard B. Vasquez, a DOD assistant inspector general, wrote in a Jan. 3 memorandum. "We may revise the objective as the audit proceeds, and we will also consider suggestions from management for additional or revised objectives."
According to Stars and Stripes, the audit will be led by the DoD inspector general's Diversity and Inclusion and Extremism in the Military office, created last year to oversee "policies, programs, systems, and processes regarding diversity and inclusion in the Department of Defense" and prevent "supremacist, extremist, and criminal gang activity in the Armed Forces," according to its website.
Out of the 500,000 people who apply to join the military each year, roughly 40%, or 200,000, enter. According to Stars and Stripes, recruiters now ask recruits about past extremist behavior and check for any extremist-affiliated tattoos during screening. But some lawmakers have asked the Pentagon to up its scrutiny, with Rep. Jackie Speier, D-Calif., suggesting in a letter last year that the Pentagon scrutinize the social media activity of military recruits. However, Pentagon officials said such an effort would "be difficult if not impossible," reports Stars and Stripes.