The House passed bipartisan legislation on Jan. 12 that would expand National Guard and Reserve troops' eligibility for GI Bill education benefits, reports The Hill.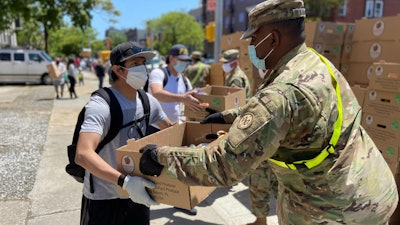 Currently, National Guard and military reservists don't collect the same GI Bill benefits as active-duty troops. But, if the new legislation passes in the Senate, all federal missions — as well as training days in uniform — would county toward National Guard and Reserve troops' GI benefits. The change would affect more than 40,000 troops, according to The Hill.
"National Guard and Reserve members are increasingly serving on the front lines of our nation's greatest challenges, responding to climate disasters, the pandemic, and the attack on our nation's Capitol building," said Rep. Mike Levin (D-Calif.), the bill's chief author, according to The Hill. "It's shameful that we have asked Guard and Reserve members to respond to these crises without providing them with the same GI Bill benefits as the active duty service members who they often serve with."
According to The Hill, it's unclear whether the bill will overcome a GOP filibuster in the Senate. Despite the 68 House Republicans who supported the bill, the majority of House Republicans voted against it, with some arguing it would drive up costs. Rep. Mike Bost (Ill.), the top Republican on the House Veterans' Affairs Committee, said the money would be better spent toward "higher priority issues" such as expanding services for veterans exposed to toxic chemicals.