In an effort to counter China's growing economic influence, the U.S. House of Representatives passed a bill designed to boost America's global competitiveness within manufacturing and scientific research, reports CNN.
Put forward by House Democrats, the America COMPETES Act of 2022 would address supply chain disruptions such as the global shortage of semiconductor chips, which are essential building blocks to most digital products, and would designate billions of dollars toward domestic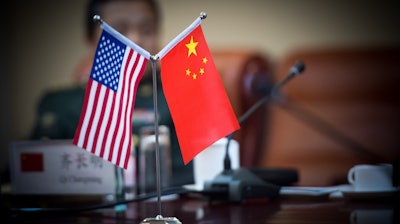 research as well as science, technology, engineering, and mathematics (STEM) education and training. The bill would also target a number of U.S. trade rules, calling for changes that would "level the playing field for American businesses and combat China's market-distorting trade practices," reports CNN.
The bill passed along party lines in the House, 222 to 210, with only one Republican (Rep. Adam Kinzinger of Illinois) voting in favor and one Democrat (Rep. Stephanie Murphy of Florida) voting in opposition.
In a statement, House GOP Leader Kevin McCarthy called the America COMPETES Act "a toothless bill that does more to appease their [Democrats'] corporate allies than it does to strengthen America's security. It wastes billions of dollars on unrelated matters and includes no measures to make China pay for the chaos they created."
Meanwhile, Senate Majority Leader Chuck Schumer said he thinks the House bill is not all that different from a similar piece of legislation passed with bipartisan support in the Senate last summer. When it comes to America COMPETES and that earlier bill, Schumer said he believes "all the gaps are very bridgeable. I am very optimistic we will get this bill done very shortly."
The partisan bill now moves into the Senate where it will be reconciled with the earlier bipartisan bill called the US Innovation and Competition Act.