Military students who make a public commitment to a goal within higher education — be it graduating or completing a program of study — will receive a "challenge coin," as part of a new tradition adopted by the University of South Carolina's Aiken Office of Veteran and Military Student Success, reports the Aiken Standard.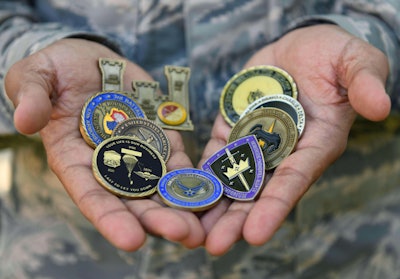 The first coins were awarded on Aug. 19th during a ceremony that welcomed military students and veteran students to the university. USCA Chancellor Dr. Daniel Heimmermann was the first to receive a coin after making a public commitment to student success, adding that he will share a student success plan by the end of the first semester.
"My commitment is to student success and doing something I know military people can appreciate: walk the walk," Heimmermann said, according to the Aiken Standard. "All universities claim to be student focused and can claim to support student success, but this university is going to do it; and I'm going to use my substance and the resources of my office in support of students."
A total of 45 students received coins at the inaugural coin ceremony created to foster student success and welcome students though a familiar military tradition.
Robert Murphy, the director of the Office of Veteran and Military Student Success, told the Aiken Standard that challenge coins have been a tradition within the U.S. military since World War I. Historically, they've been given to enhance morale during tough challenges or to recognize a special achievement.
"It's a coin that represents good work, good deeds, camaraderie, cohesion," said Murphy. "And what a better way to welcome this group of students to this university by doing the same tradition that we have in the military by honoring them with the challenge coin?"