Masks will no longer be required at The Citadel, starting Monday, reports The Post and Courier.
According to the South Carolina paper, the school's president, Gen. Glenn Walters, first spread the news to Citadel insiders via a Sept. 29th email in which he said the entire campus would no longer have a mask requirement.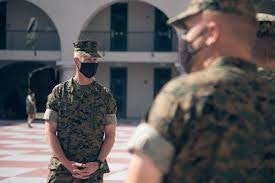 "Due to this hard work — as well as reported vaccination rates and current conditions on campus — we have decided to remove the mask requirement for the entire campus effective Monday 4 October," wrote Walters, according to The Post and Courier.
Nonetheless, he still encouraged staff and students at the public military college to take precautionary measures, such as getting tested if they had any symptoms of COVID-19. According to the paper, the school recently ordered 2,000 over-the-counter rapid testing kits.
As of Sept. 29, The Citadel had eight active coronavirus cases within its staff and student body of roughly 3,000. Ten people are also in quarantine, according to the school's COVID-19 dashboard.