A bipartisan bill introduced to the Senate hopes to address the disparate costs women pay in the military, specifically when it comes to their uniforms, reports The 19th, a nonprofit news organization, in partnership with USA Today.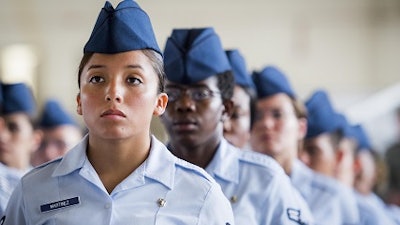 In reporting on the bill, The 19th cites a U.S. Government Accountability Office report that found that Army women pay almost twice as much for uniforms than their male counterparts. More specifically, the report found that a woman who has been in the Army for 20 years has likely paid $8,000 out-of-pocket in uniform costs while a man has likely paid around $3,500. Other military branches had similar disparities
"This disparity in uniform costs is particularly stark for women, who are in some cases paying almost twice as much for the same uniform item as their male counterparts," Sen. Maggie Hassan, D-NH, said in a statement to The 19th. Hassan co-introduced the bill with Republican Joni Ernst of Iowa. "I look forward to working closely with Senator Ernst to push forward this bill and make sure that we help close the gender inequities in our military."
The legislation, appropriately called FATIGUES, or the "Military Forces Assuring that Treatment of Items by Gender are Uniform and Equal across the Services," requires that the Department of Defense "develop consistent criteria when it comes to uniform items, review any uniform changes to determine the potential out-of-pocket expenses, and identify the retail costs for men and women across the services," writes The 19th.