An active-duty U.S. Marine Corps Member will serve as the college marshal for Penn State's College of Health and Human Development at the university's commencement ceremony on Dec. 18.
Benjamin Courter, who is also a husband and father of two, will graduate with a degree in recreation, park and tourism management. He attended Penn State as part of the Marine Enlisted Commissioning Education program, which supports the education of enlisted service members at schools with a Naval Reserve Officers Training Corps (NROTC) program.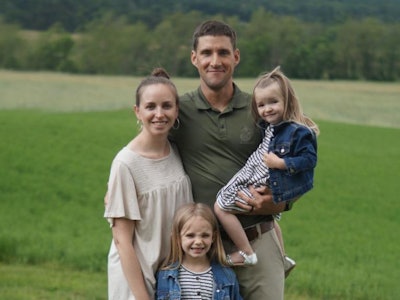 Making the ceremony all the more special, Courter will graduate alongside his wife, Hillary, who is earning her bachelor's degree in communication sciences and disorders from Penn State. Both she and Courter are first-generation students.
As a nontraditional student, Courter said he felt he was able to provide unique perspectives to his class discussions. 
"I always felt that I had something different to add to class discussions because I am a parent," said Courter in a Penn State press release. "Even if you're talking about consumer products in a business class, being a parent brings a whole different perspective on safety and user experience. It has been interesting to experience my education through that different lens."
After graduation, Courter will return to active duty, but, once he completes his military service, he plans to pursue a career in park management.
"One thing I really enjoy about military service is being outdoors and active. I love hiking, hunting, and fishing, and I think that enjoyment from being active is something that will easily translate to a career in park management," said Courter.