Cadets at Arizona State University (ASU) and Grand Canyon University are developing physical training plans that improve performance on the Army Combat Fitness Test, thanks to a new partnership between ASU's Army ROTC and College of Health Solutions.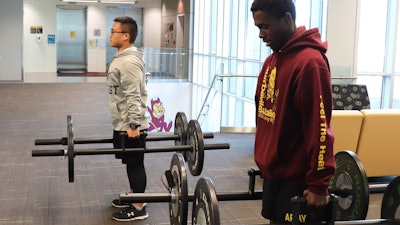 Last month, the two groups co-hosted their second-ever semi-annual Tactical Athlete Seminar — a three-day program that trains cadet coaches on how to lead effective physical training programs. As part of the seminar, ASU professors and subject matter experts helped cadets "gain tactical proficiency" in areas such as foundational movement, coach-to-coach mentor training and recovery nutrition, according to an ASU press release.
"This program will lay a strong foundation in combat readiness for cadets as they progress in their military careers and lead as officers in their future units," said Capt. Tim Martin, assistant professor in the Department of Military Sciences. "We have already seen tremendous improvement in cadets' (Army Combat Fitness Test) scores from fall semester and look to build on that moving forward this spring."