In a win for the First Amendment, the Army has reversed a reprimand against the Colorado National Guard's Capt. Alan Kennedy for attending a Black Lives Matter protest in 2020, reports KUNC, the National Public Radio station for Northern Colorado.
Wearing civilian clothing and not on duty, Kennedy had filmed police tear gassing crowds during a protest and later wrote op-eds about his experiences. Afterward, however,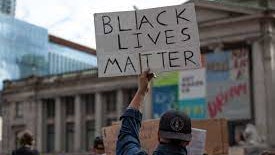 commanders flagged Kennedy for an investigation and later reprimanded him "because he did not receive approval for the wording of a disclaimer that appeared at the bottom of the commentary," writes KUNC.
A military attorney, Kennedy argued to the Army board that the Colorado National Guard officers were seeking to restrict his freedom of expression, especially since they had reportedly shown bias during the process, with one general allegedly describing the Black Lives Matter protests as "inherently violent."
According to KUNC, a January 3rd letter from the Army Suitability Evaluation Board ultimately sided with Kennedy and ordered that the reprimand and associated disciplinary documents be removed from his records.
"It shouldn't take a year and a half, but this is a tremendous victory for the First Amendment and the right to protest and the right to write op-eds," Kennedy told KUNC. "... The reason I feel so strongly about this is because it is because you don't lose all of your constitutional rights simply because you take an oath to support and defend the Constitution."
Due to ongoing litigation, the Colorado National Guard did not respond to KUNC's request for comment.