Sixty Junior Reserve Officers' Training Corps (JROTC) instructors were accused of sexual misconduct against high school cadets in the past five years, according to a recent congressional report, Military.com reported.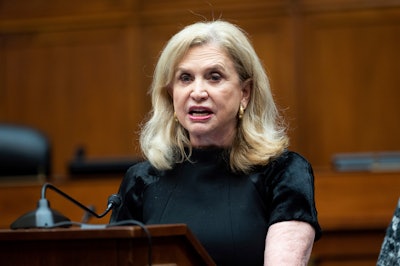 Allegations against 58 were substantiated by local law enforcement or school officials, according to the House Oversight Committee's majority staff report, released ahead of a Nov. 16 hearing on the JROTC program.
Back in July, The New York Times reported that at least 33 JROTC instructors had been criminally charged with sexual crimes in the past five years, prompting the committee to investigate. And earlier this month, the Defense Department (DoD) reported that the number of allegations of sexual assault, harassment, and other sexual misconduct was nearly double what had previously been made public.
Most allegations were from the Army program, with allegations against 26 instructors – all but one substantiated. 24 instructors were decertified and one committed suicide, according to the report.
"What we have learned from the department is truly alarming," Oversight Committee Chair Carolyn Maloney, D-N.Y., said at the hearing. "Our investigation has exposed that a lack of Pentagon oversight appears to have enabled the predatory behavior of some of the JROTC instructors. Any allegation of sexual assault, abuse or harassment in this program is one too many, and needs to be addressed."
Many high school students enlist or join the college ROTC program despite not being required to do so, making the program a potential pipeline to military service amid recruitment difficulties.
"The United States military, the finest volunteer fighting force in the world, is currently grappling with an unprecedented recruitment and retention challenge," Rep. Stephen Lynch, D-Mass., chairman of the Oversight Committee's national security subcommittee, said in his opening statement. "This is driven, at least in part, by a lack of trust among our nation's young men and women and their families that the United States military will protect them from unnecessary physical and psychological harm both at home and when deployed overseas."
The services were found to not consistently follow Pentagon policy of conducting annual oversight of JROTC units. And military officials also struggled to answer questions about specific ways they would improve accountability or vetting of instructors.
Subcommittee member Rep. Jackie Speier, D-Calif., who is also chair of the House Armed Services Committee's personnel subcommittee, advocated for stripping pensions from those with substantiated allegations and expressed concern that actual incident numbers may be far greater, given that sexual abuse survivors are often not comfortable reporting.
"I can't begin to think how many young people are impacted," Speier said. "In some respects, I feel we should just shut down this program until you can get it right. I don't want another kid to be sexually harassed or assaulted; that will stay with them the rest of their lives. You've known about this and done nothing about it since 2017, that we know of."