The University of Virginia has created a Student Veterans Center.
The facility is designed as a gathering space for veterans, particularly undergraduate veteran population," said David Sauerwein, an assistant dean of students who worked on the center.
"They have some specific needs that are tied also to their non-traditional age. With their experience serving and their life experience, they are often in a different developmental place than many UVA undergraduates. Some are married, some have children, and they are sometimes not seeking out the same undergraduate experiences as other students."
The center, a joint project of the Student Veterans of America @ UVA, the Office of the Dean of Students and the Jefferson Trust, officially opened last Thursday, with University President Dr. Jim Ryan among those delivering remarks.
Ryan told the veterans at the opening ceremony that the center was a place for them to build a community, develop themselves and to take advantage of the center's educational and social programming.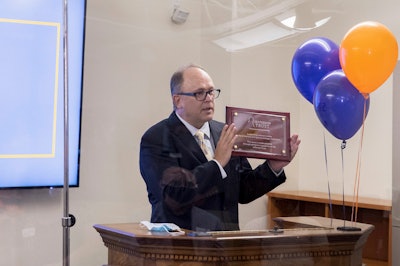 "And it's a place that I hope will help remind you that you belong here at UVA," Ryan said. "No matter where you are from, or whether you are the first in your family to attend college, whether you are a graduate or undergraduate student, or what your background is, you are welcome here, and you are also part of what makes us the University of Virginia. You are part of what makes us among the most vibrant university communities in the world. When you graduate, I know that you will have helped to shape this place, just as UVA will have helped to shape you."
Ryan said it was a difficult time for veterans and the country, with the challenge of the pandemic and recent events in Afghanistan, noting that veterans bring different perspectives and emotions with them.
"I feel heartbroken at the tragic loss of life since our time in Afghanistan and deeply grateful to those who have sacrificed so much to make the world a better place," Ryan said. "I also learned that some of you are involved in a program to help refugees from Afghanistan. This doesn't surprise me, given your extraordinary commitment to service, but it does inspire me. Because that is what UVA is all about: using your time here to lead, to serve others, and to engage with the world even when doing so might require sacrifice. It is what makes UVA great and good."