Private women's liberal arts college Meredith College honored its women veterans Nov. 9 at its Veterans Day celebration, the 10th anniversary of the event.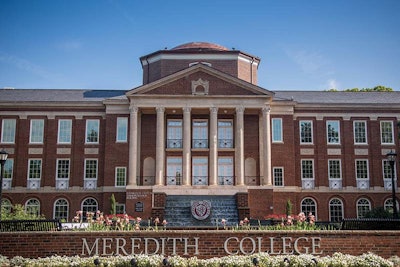 This year's event – presented by the Meredith College Honoring Women Veterans Committee, with assistance from Meredith Student Veterans Association and Service Scholars – was in-person after two years of virtual commemorations. It honored all veterans, with special emphasis on women veterans.
At the event, Lt. Gen. Kathleen M. Gainey, U.S. Army (Retired), spoke about the military service of women veterans, including her own.
During her service, Gainey spent time as deputy commander of U.S. Transportation Command and director of logistics for the Chairman of the Joint Chiefs of Staff.
"Every generation of women who have served have helped break open barriers," Gainey said. "They demonstrated how women could excel. I am eternally grateful to these women."
Gainey also spoke about the Military Women's Memorial (MWM), which is in Arlington, Va. The memorial reaches its 25th anniversary in October. Gainey challenged the audience to visit and help register the stories of women veterans there.
"More than three million women have served in the United States military … the artifacts and memories [of these veterans] will be lost if we don't capture them in this memorial," said Gainey, who is an MWM North Carolina ambassador.
Additionally, Meredith community members can make holiday cards that will be sent to the troops via Heartillery Group. Card supplies are available in the Cate Center lobby through Nov. 18.