Dr. Chris Howard, an Arizona State University (ASU) leader, Air Force veteran, and former Rhodes Scholar, gave advice to graduating veterans Dec. 10 during the Veterans Honor Stole Ceremony. The ceremony – organized by ASU's Pat Tillman Veterans Center – had Howard, executive vice president and chief operating officer of ASU Public Enterprise, give keynote remarks.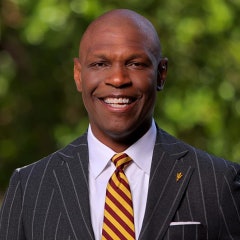 "Just like in the military — train for what you know and educate for what you don't know," Howard said. "This is not the end of your journey of learning. Be sure to make that commitment to yourself."
The ceremony is ASU's recognition for graduating veterans and active military service members.
Howard – who was a helicopter pilot and an intelligence officer – served in Afghanistan in the Air Force Reserve and was awarded the Bronze Star. In higher ed, Howard was president of Robert Morris University and president of Hampden-Sydney College.
He advised graduates to apply leadership learned in the military to their communities and workplaces. Strong supervision requires self-awareness and awareness of the world around you, he said.
"That means to be contextually aware and understand the world around you," Howard said. "For example, you're a leader at Mayo Clinic and are in charge of a group of surgeons, clinicians, doctors and nurses. You don't talk to them the same way a drill sergeant would talk to you."
HyeJung Park, doctoral student, 2020 Tillman Scholar, and the student keynote speaker said: "What a joyous day. I've no doubt that in this room sits our future leaders. Many of you will go on to make long-term strategic decisions in areas of education, water infrastructure, arts, affordable housing. As a community, we are a force that's powerful because we feel this joint responsibility of leaving this place better than we found it."
This semester, 667 veterans applied for graduation and will receive degrees.
"From the first time I helped the center during the stole ceremony back in 2015 as the volunteer chaplain, I wanted to get my own veterans honor stole," said Shawn Banzhaf, another graduate and who was recently appointed the Tillman Center's new executive director. "The image of me walking that stage was a driving force for me to pursue my master's degree. Today is a dream come true for me as a first-generation college student veteran to walk in this ceremony with my fellow veterans."