Daemen University and Foundation 214, a foundation that supports U.S. military veterans, have signed a Memorandum of Understanding (MOU) Mar. 8 that gives the school a $1.5 million grant for comprehensive veterans services that meet the holistic needs of military-aligned and veteran students.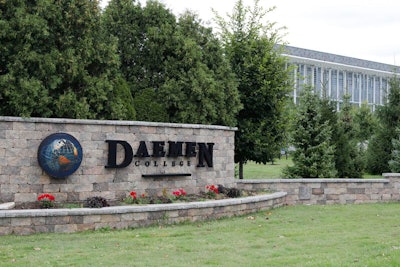 The money will go towards developing an Accelerated Business Online Veteran Education program, an expedited online B.S. in business administration program, and academic advising, career coaching, mental health counseling, and professional development workshops.
"This new program will support student veterans, providing them with a unique and valuable opportunity to gain a high-quality education that will improve their employability, financial stability, and quality of life," said Dr. Michael Brogan, veteran and Daemen University executive vice president for academic affairs and provost.
Some of the $1.5 million will be used on the establishment of the Foundation 214 Veterans Success Center on Daemen's campus.
"This center and our services will help veterans transition from military to civilian life," said Elizabeth Wright, project lead and interim dean of the Daemen University College of Health Professions and College of Health, Human Sciences and Business. "We will provide supportive staff and resources, as well as constructive programming opportunities. Staff will gain professional development to better serve the veteran community."