Legislation that would change benefits policies for wounded servicemembers is currently in the U.S. Senate, with bipartisan support and more than 60 co-sponsors, TND reported.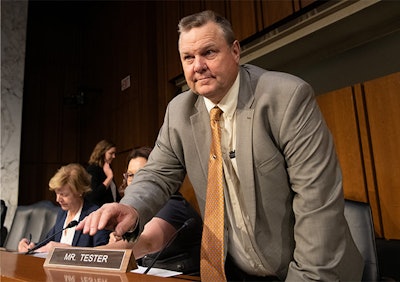 The Major Richard Star Act was introduced in February by Senate Veterans' Affairs Committee Chairman Jon Tester (D-Montana) and Sen. Mike Crapo (R-Idaho). It has not had success in the past despite being introduced in the last two congresses.
As it stands now, only veterans with disability ratings above 50% and more than 20 years of service are eligible to receive the full amount of their Department of Defense (DoD) retirement and Department of Veterans Affairs (VA) disability payments, Tester and Crapo said. And for some vets, disability pay is deducted from retirement pay.
This bill aims to fix that policy so medically retired combat veterans can get full disability and retirement payments, the two said, adding that more than 50,000 veterans could benefit from the bill's passage.
Former Marine Cole Lyle, executive director of veterans advocacy group Mission Roll Call, said the current offset policy makes veterans choose between the two benefits. Financial stress can be a driver of suicide, the prevention of which is Mission Roll Call's priority, Lyle said.
"I think at a time the services are already having enormous difficulty in recruiting ... it's potentially dangerous to national security if you continue to degrade incentives for service," Lyle said.
Other veterans organizations, including the Veterans of Foreign Wars (VFW), American Legion, and Disabled American Veterans, have voiced support for the bill.
"We urge Congress to pass this Act and honor this nation's promise to care for all its veterans," Brittany Dymond, VFW associate director of national legislative service, said in a news release.