Retired Col. Wanda A. Wright will become director of the Office for Veteran and Military Academic Engagement at Arizona State University (ASU), effective Jun. 1.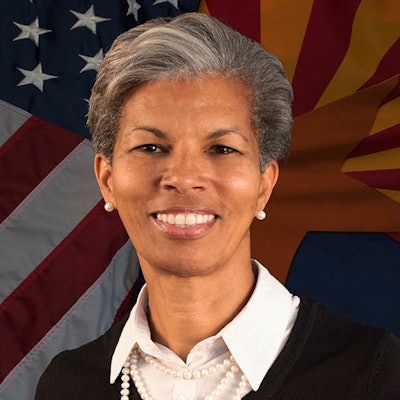 Wright – a 21-year veteran of the Arizona National Guard – is currently on the VA's Advisory Committee on Women Veterans. She has previously served as director of the Arizona Department of Veterans' Services, president of the National Association of State Directors of Veterans Affairs, and vice principal at Montessori Academy in Paradise Valley.
"Wright has an impressive track record as a transformational leader, with extensive experience working with stakeholders locally, regionally and nationally to achieve positive outcomes for veterans and their families," said Joanna Grabski, dean of the College of Integrative Sciences and Arts. "Along the way, she has built and sustained an incredible network of collaborators and contacts in state and national government, veteran service organizations and nonprofits across the U.S., and in media. She's secured grant funding for important research. She's also taught at the collegiate level. There's already tremendous excitement to see how she'll take the (office) as a national model for second-career success for veterans to new levels of impact."
During her tenure, the state veteran services department's veteran disability claim approval rates increased from 65% to more than 95% in five years.
And during her time in the military, she served in roles including deputy budget officer for the Tactical Air Command in South Carolina and director of staff for Arizona National Guard. The third-generation veteran was the first African American woman to become colonel in the state's National Guard.
"I had been looking for a position in education where I could continue to serve veterans," Wright said. "This position is the perfect fit for me as I continue my work with veterans, in an academic environment, utilizing my master's in educational leadership degree from ASU. There are so many opportunities to continue to expand courses available, to ensure students understand the wide and deep extent to which they can impact the lives of veterans and their families, and gain an understanding of veteran and military history, structure, systems and policies."
Wright holds a B.S. in Management from the U.S. Air Force Academy, a M.B.A from Webster University; a M.P.A. from the University of Arizona, and a M.A. in educational leadership from ASU.