Adm. Lisa Franchetti, the vice chief of naval operations and the nominee to take over as Chief of Naval Operations, will now assume the role in an acting capacity, Politico reported. What was supposed to be a historic landmark on which a woman will ascend to the ranks of the military's Joint Chiefs of Staff for the first time in history has left many in limbo.
Now a different milestone will be reached, with the retirement of Chief of Naval Operations Adm. Mike Gilday, for the first time in U.S. history, interim officers are filling three of the eight seats on the Pentagon's storied board of most senior military members.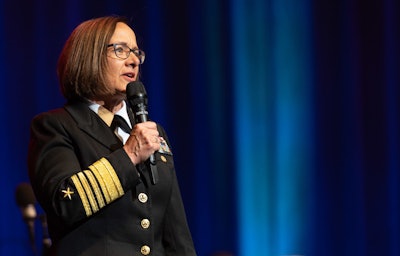 The halt in this transfer of power is due to an eight-month blockade on military promotions by Alabama Republican Sen. Tommy Tuberville, who opposes a new Pentagon policy on paying for service members to travel to another state to receive abortion and other reproductive services. More than 300 senior officer nominations are now on hold due to the standoff.
"This is unprecedented. It is unnecessary. And it is unsafe," said Austin, speaking at the Naval Academy in Annapolis, Md. "This sweeping hold is undermining America's military readiness. It's hindering our ability to retain our very best officers. And it's upending the lives of far too many American military families."
Franchetti is now tasked in her new role to lead a fleet that has struggled to build new ships and has yet to offer a workable shipbuilding plan to hit its desired mark of 355 ships since it declared that as its goal in 2016.
In the acting role, Franchetti can legally perform the duties of the top job for as long as necessary. But she can't issue new official planning guidance to the force until she is confirmed. It is a difficult path ahead of her to lead a fleet within the limitations of her new role.
Veronica Fernandez-Alvarado can be reached at veronica@diverseeducation.com