While the state of New York's new "tuition-free college" program may pave the way for similar and broader programs throughout the country, the way the program is structured makes it so that it will benefit the middle class and do nothing for low-income students.
Gov. Andrew M. Cuomo's office never pretended anything else, announcing over the weekend that the program will "provide tuition-free college to middle class families."
Nevertheless, advocates and policy experts say the Excelsior Scholarship program — being included in New York state's fiscal 2018 budget agreement — represents an important first step toward making college more affordable.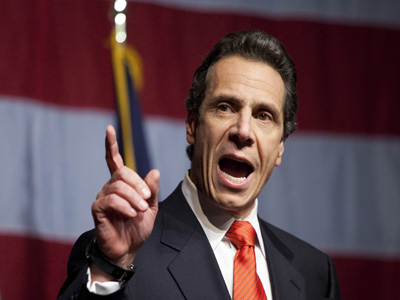 The program makes attendance at New York state's public universities — CUNY and SUNY institutions — tuition free for families that make $125,000 a year or less.
While programs in a number of other states offer "free" community college, Excelsior is considered the first of its kind in that it extends free tuition to four-year universities.
"What's exciting is that this is a first step — a positive step in the direction of eliminating cost as a barrier to access and success," said Kevin Stump, the New York-based northeast regional director for Young Invincibles, a nonprofit that focuses on policy issues that affect 18- to 34-year-olds.
However, Stump's enthusiasm for Excelsior was tempered by the fact that the program functions as a "last-dollar" scholarship program that only covers what New York State Tuition Assistance Program, or TAP, and federal Pell Grants do not cover.
TAP grants cover up to $5,165 of tuition of approved schools in New York. The maximum Pell Grant for the 2017-18 school year is $5,920.
"Because of how generous TAP and Pell Grants are to cover the cost of tuition at SUNY or CUNY, this program isn't really designed to help (low-income students)," Stump said of Excelsior. "And as we know the majority of costs associated with getting a college degree are non-tuition-related. Food, books, housing — those are really what the majority of costs are."
Dr. Gail O. Mellow, president of LaGuardia Community College (CUNY), where in-state tuition is $5,218, also called Excelsior "an important first step" and expressed similar concerns, although in more positive terms. She described Excelsior as a "bold and visionary" idea.
"Tuition is but one factor of college affordability; our hope is that, with Excelsior, more LaGuardia students will need to work one job as opposed to two or more, in order to afford living expenses, books, and other college-related fees," Mellow said.
"Excelsior is significant for its potential to make earning a college degree an achievable goal for more New Yorkers — and to encourage students from all income backgrounds to see themselves as college material."
The Excelsior scholarship program is expected to be phased in over three years, beginning in the fall of 2017 for New York state residents who make make up to $100,000 annually. It will expand to residents who earn up to $110,000 in 2018, and finally in 2019 to those who make $125,000.
Scholars must be enrolled in college full time and average 30 credits per year in order to receive the funding; however, the program has "built in flexibility so that any student facing hardship is able to pause and restart the program, or take fewer credits one semester than another," according to Cuomo's office.
Students must keep up a grade point average necessary for the successful completion of their coursework. In addition, scholars will be required to live and work in state for the same number of years after graduation as they received the scholarship while in school, according to Cuomo's office.
Barmak Nassirian, director of federal relations and policy analysis for the American Association of State Colleges and Universities, or AASCU, said Gov. Cuomo's success in making the Excelsior program a reality "has important implications for higher education policy across the country because it indicates the continued potency of public college affordability." Nassirian noted U.S. Sen. Bernie Sanders, an Independent from Vermont, brought to the fore during his 2016 presidential bid.
"Because the Trump administration has not offered a plan of action on affordability thus far, New York's move may well portend a national trend in which the states step in to do what the federal government would do under the Sanders plan," Nassirian said.
Indeed, a growing number of states had made efforts in this regard. More specifically, 77 free college bills have been introduced in 29 states, according to the Education Commission of the States, which has been tracking the issue since 2014.
Only five states — Arkansas, Minnesota, Oregon, Rhodes Island, and Tennessee — have enacted free college programs, but they only extend to community or technical colleges.
"New York is not the only state to consider free college legislation with a postgraduation work requirement," said Sarah Pingel, senior policy analyst at the Education Commission of the States, noting that Arkansas enacted a policy last month that requires recipients to remain and work in Arkansas or else the grant converts to a loan.
"In general, programs with work requirements can be administratively burdensome for states and confusing for students to navigate," Pingel said.
Nassirian expressed similar thoughts.
"State budgetary constraints tend to require a fair amount of policy contortion in the specifics of how they implement free tuition," Nassirian said. "Obviously, the simplest way of offering free public tuition would be to drop tuition and fees to zero and be done with it. That, however, is not the way New York has configured its plan."
Nassirian said Excelsior's structure as a "last dollar" scholarship program "results in lowest-income students receiving no additional benefits from the new initiative, which will distribute most of its funding to higher-income recipients under its income-eligibility cap."
"The Sanders plan, in contrast, would have set public tuition charges at zero and allowed the neediest students to use their Pell and other need-based aid to cover other components of their total cost of attendance," he said, referring to living costs, transportation, books, and the like.
Stump said his organization would like to see New York state create greater need-based grants that cover non-tuition costs.
He also criticized the requirement that Excelsior beneficiaries remain in New York for as many years as they benefit from the scholarship.
"The state should be focused on building a stronger economy that's more inclusive for recent graduates that helps us buy homes and start families and businesses here, not punish us when we get a professional opportunity that we worked hard to get the credential to do," Stump said.
Jamaal Abdul-Alim can be reached at [email protected] or follow him on Twitter @dcwriter360.