Two advocacy groups and 19 state attorneys general slammed U.S. Secretary of Education Betsy DeVos with separate lawsuits Thursday that seek to force DeVos to scrap plans to delay enforcement of an Obama era rule meant to protect student loan borrowers from predatory colleges.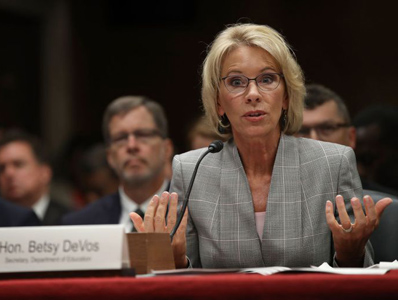 While supporters of the lawsuits say they are critically important for defrauded students, the Department of Education shot back that the lawsuits are "ideologically driven."
"With this ideologically driven suit, the state attorneys general are saying to regulate first, and ask the legal questions later — which also seems to be the approach of the prior administration that adopted borrower-defense regulations through a heavily politicized process and failed to account for the interests of all stakeholders," said Liz Hill, deputy press secretary for the U.S. Department of Education.
The Career Education Colleges and Universities — or CECU, the main lobbying group for for-profit colleges — sounded a similar tone.
"This is what we call political harassment," said Steve Gunderson, president and CEO of CECU. "It is not like the Department doesn't check their legal authority before taking action."
The attorneys who brought the lawsuits say they're about protecting students from predatory schools.
Julie Murray is an attorney with Public Citizen Litigation Group — one of two organizations that jointly filed a lawsuit on behalf of two Massachusetts students who attended for-profit colleges. Murray said the lawsuit seeks to get the court to tell the Education Department that is must implement the Borrower Defense rule "now, so that student borrowers who are protected by the rule can take advantage of its benefits immediately." That was the intent of the Obama administration when it implemented the rule, Murray said.
"Ensuring that the rule goes into effect now will also have an immediate effect on schools," Murray told Diverse via an email response. "It will rein in those schools that engage in fraud and level the playing field for high-quality schools that put students first."
The lawsuit seeks to get the Education Department to abandon its June decision to delay enforcement of Borrower Defense. Among other things, the Borrower Defense rule would have precluded schools that participate in the federal Direct Loan Program from using forced arbitration agreements. It would have also prevented the schools from using agreements in which students give up their right to join class action lawsuits against the schools. Borrower Defense was set to take effect July 1 but Secretary DeVos delayed enforcement pending resolution of a separate court case in which a group of California for-profit schools is seeking "judicial review" of the rule.
Public Citizen filed the lawsuit in the District of Columbia along with the Project on Predatory Student Lending at Harvard Law School.
The lawsuit was filed on behalf of Meaghan Bauer and Stephano Del Rose, who both studied digital filmmaking and video production at the New England Institute of Art (NEIA), a for-profit college located in Brookline, Massachusetts, from 2011 through 2014 and 2009 through 2014, respectively.
Bauer and Del Rose both borrowed similar amounts — $35,900 and $31,000, respectively, in federal student loans — and, with interest, owe the Department of Education $41,000 and $40,000, respectively.
Both are preparing to sue NEIA in Massachusetts, as well as the school's corporate parent, Education Management Corporation, or EDMC, for allegedly making "untrue" representations about the quality and cost of the school, its connections with industry, and the job prospects for graduates, as well as assistance with job placement, the lawsuit filed Thursday states.
Both signed "enrollment agreements" that included a forced arbitration clause that supposedly covers future claims by students against the school, the lawsuit states.
It claims that both NEIA and EDMC have "explicitly" refused the students' request not to enforce the arbitration provision in their enrollment contracts.
Efforts to obtain a comment from EDMC were not successful.
"Without the Borrower Defense rule in place, it will be more difficult for Meaghan and Stephano to bring their claims in court," Murray said.
In a separate lawsuit, attorneys general from 18 states and Washington, D.C., sued Secretary DeVos for "abandoning critical federal protections" that were set to take effect July 1 under the Borrower Defense rule.
Sean Rankin, executive director of the Democratic Attorneys General Association, said the rule seeks to "hold accountable those schools that are engaging in predatory behavior through deceptive actions."
"Secretary DeVos is self-serving and taking taxpayer dollars to support her industry and interests while turning her back on students," Rankin said. DeVos had links to the for-profit education industry before she became education secretary.
"She and her friends stand to gain by blocking implementation of the regulations against those private interests that take advantage of our students, many of whom are veterans, and all taxpayers," Rankin said.
The Department of Education has stated that it intends to delay enforcement of the rule until the court decides a separate case in which a group of California for-profit college sued the department to block enforcement of the rule.
"The Department's reference to the pending litigation is a mere pretext for repealing the Rule and replacing it with a new rule that will remove or dilute student rights and protections," the state attorneys general argue.
However, Hill, the Department of Education press secretary, said the lawsuit filed in May by the California Association of Private Postsecondary Schools makes "serious and credible charges that the borrower-defense regulations exceed the statutory authority conferred on the Department by Congress in the Higher Education Act, violate the Federal Arbitration Act, and deny due process to regulated parties."
"The borrower-defense regulations suffer from substantive and procedural flaws that need to be considered before imposing new burdens on regulated parties that will come at a cost to taxpayers of $14.9 billion in the next ten years," Hill said of the Obama era rule, citing the dollar amount of discharged loans that could come about through Borrower Defense.
"That is why the Secretary decided it was time to take a step back and hit pause on these regulations until this case has been decided in court and to make sure these rules achieve their purpose: helping harmed students," Hill said.