The Biden administration has asked 11 officials appointed to military service academy boards by former President Donald Trump to resign, else they be dismissed, reports CNN's KFile, after White House press secretary Jen Psaki confirmed the requests on Wednesday.
"The President's objective is what any president's objective is -- to ensure you have nominees and people serving on these boards who are qualified to serve on them and who are aligned with your values. And so yes, that was an ask that was made," Psaki told reporters at a White House briefing, according to CNN.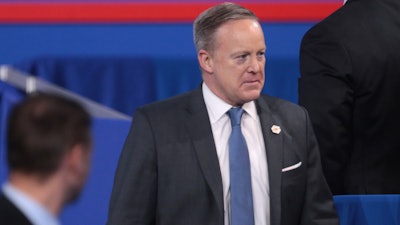 Among the most prominent officials asked to resign are former White House press secretary Sean Spicer, former senior counselor to the president, Kellyanne Conway, and former national security adviser H.R. McMaster. The three were appointed to the advisory boards of the Naval Academy, Air Force Academy and West Point, respectively.
Advisory boards typically review the state of operations at U.S. military academies, looking at social climate, curriculum, fiscal affairs and physical equipment, among other aspects. Advisers typically serve three-year terms and meet several times a year to provide independent recommendations to the President.
Defense Secretary Lloyd Austin recently restarted 16 defense advisory boards after halting activity in February and removing a number of members appointed in the final days of the Trump administration.
Many of the latest appointees asked to leave have not been receptive to the Biden administration's request. On Twitter, Russel Vought posted the letter requesting his resignation, tagged the White House and wrote, "No. It's a three-year term." Vought, who was Trump's former director of the Office of Management and Budget, was appointed to the Naval Academy's board.
In a letter posted to Twitter, Conway called the news "petty and political" and said she would not resign. According to CCN, Spicer likewise said he would not submit his resignation but would join a lawsuit to fight it instead. He reportedly asked: "Remember back during the inauguration when President Biden said. 'I'm going to be the President for all people, Trump voters and everyone else?' Yeah, where'd that go?"
Meanwhile, at the White House press conference, CNN quotes Psaki, who added, "I will let others evaluate whether they think Kellyanne Conway and Sean Spicer and others were qualified, or not political, to serve on these boards, but the President's qualification requirements are not your party registration, they are whether you're qualified to serve and whether you're aligned with the values of this administration."