Among the 32 Americans chosen as 2022 Rhodes Scholars are four U.S. Military Academy cadets: Hannah Blakey, Krista Flinkstrom, Veronica Lucian and Holland Pratt.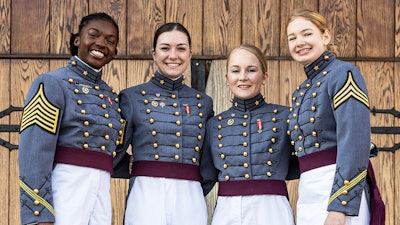 As part of the international fellowship — considered the oldest and one of the most prestigious in the world — they will pursue studies in their respective fields at Oxford University next fall, where they will join Rhodes Scholars from more than 60 other countries. This year's American class was chosen from a pool of 826 applicants who had been nominated by colleges and universities nationwide for having "outstanding intellect, character, leadership, and commitment to service."
"These cadets epitomize what it means to be a Soldier-scholar. Their studies span numerous disciplines, illustrating the diverse intellectual capital that West Point provides for the Nation," said Brig. Gen. Shane Reeves, dean of the academic board. "We are immensely proud of all they've accomplished and the bright future ahead of them. Their success is a win for the whole team. As we celebrate this historic Rhodes cohort, we also celebrate the tremendous team that supported them through this process and their four years at West Point."
A Persian and French major from Detroit, Blakely is interested in studying the intersection of violent conflict and forced migration in the Middle East and Central Asia. At West Point, she is third-in-command of the academy's entire Corps of Cadets as well as president of a leadership initiative for students from underrepresented backgrounds. She has excelled as a Division I track and field athlete too, setting school records in the 400-meter relay and 400-meter hurdles. Blakely will pursue both a master's in refugee and forced migration studies and a master's in evidence-based social intervention and policy evaluation when she begins her studies next fall at the University of Oxford,
An economics major with premedical concentration from Stow, Massachusetts, Flinkstrom is interested in the intersection of global health, economics and gender. As an intern this past summer, she helped design a gender-based investment strategy as an intern at the Development Finance Corporation in Washington, D.C. She is on West Point's Sandhurst Black and Gold team and is the academics officer for her cadet company of 115 cadets. At Oxford, she will earn a master's in economics for development and a master's in global health and epidemiology.
A life science major with a minor in nuclear science from New Jersey and Delaware, Lucian hopes to serve in the U.S. Army as a joint researcher and trauma surgeon for vulnerable populations throughout the world. At West Point, she is founder of a Women's Mentorship Group and is a soloist for the West Point Glee Club, having performed for distinguished public officials such as the Vice President of the United States. As a Rhodes Scholar, Lucian will read for a Master of Science in Materials at Oxford.
First Captain of the Corps of Cadets and from Spokane, Washington, Pratt is a military history major with a Middle Eastern regional studies minor. Inspired by her family's suffering in the Holocaust, Pratt is interested in how military, civilian and international organizations can work together to prevent and respond to mass atrocities. She has already begun to prepare for crisis prevention as a leader in West Point's Mass Atrocity Prevention Practicum, a simulation experience focused on humanitarian crises, and has developed a Myanmar Situation Assessment for the United States' Indo-Pacific Command region. As a Rhodes Scholar, Pratt will earn a master's in global governance and diplomacy and a master's in refugee and forced migration studies from Oxford University.