The Department of Defense is looking to emphasize joint military efforts — when two or more branches work together — within its professional military education, announced the DoD as part of its latest vision called "Developing Enlisted Leaders for Tomorrow's Wars."
In the 1960s, different military branches worked together mostly at the senior levels. However, in recent decades, joint efforts have increased down the ranks. In Iraq, for instance, "it was not unusual for an Army patrol to go outside the wire, with Air Force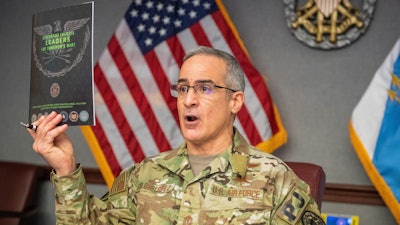 and Navy personnel helping defend against the improvised explosive device threat," notes the DoD in a press release. Additionally, Air Force, Army, Marine or Navy aircraft all played a part in providing close-air support. And, while the Air Force oversees satellite communications and surveillance, other services also contribute to persistent observation.
"Military leaders saw the advantages of the services working together, and the move since then has been to plan together and fight together," notes the DoD. " ... Service members still have to know the procedures and capabilities of their own services first, but they also need to understand the advantages that working as a joint force team provides."
Or, as Senior Enlisted Advisor to the Chairman Ramón "CZ" Colón-López put it, "the place to learn about the joint force concept can't be on the battlefield, on the fly."
That's why he's devised a course for enlisted members of the E-6 and E-7 ranks across military branches to take together.
"Long story short, we decided E-6, E-7 is the sweet spot because by that point, they have enough time in service to understand the culture and what is required from their services" he said. "[These noncommissioned officers and petty officers] know their trade, and they're well ingrained on what an NCO or petty officer does."
Called "Keystone-minus," the course — which will be taken in addition to the military's Keystone course, which is a top-level enlisted PME course — will include a two-week, in-residence joint professional military instruction that will "cover everything from the way that laws are made to the way that budgets are passed to the way that the orders come down from the civilian leadership to the joint force" Colón-López said. "It also will cover the ways the services support the combatant commands and how they execute orders. So, that's really what the course is going to go ahead and cover."