Howard University sponsored "We Fly Too: Celebrating Diversity in Aviation" on Saturday, April 30.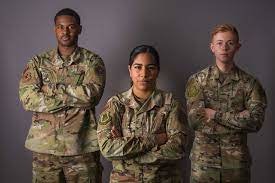 The one-day event focused on diversity in military aviation and highlighted accomplished African Americans and women in aviation fields. Active-duty Air Force pilots, Space Force personnel and other aviation professionals were in attendance, as well as Howard University students and community members. An Air Force UH-1N helicopter landed near Cramton Auditorium on Howard University's campus.
Organized by Howard graduate 1st Lt. Dontae Bell, a pilot with the 1st Helicopter Squadron at Joint Base Andrews, Md, among others, the event was designed to inspire young Black people to pursue careers in aviation, as the Air Force has continued to struggle with a lack of diversity in its aviation career fields.
The event began with a Fireside Chat with Howard President Dr. Wayne A.I. Frederick and Chief of Staff of the Air Force General Charles Q. Brown, Jr., the service's first Black chief. The presentation was followed by a Q&A with active-duty Air Force pilots, a Women in Aviation panel and Diversity and the Future of Aerospace Panel. Guest speakers included Howard alum and 2nd Lt. Tyler Williams-Gentry, USSF Space Operations Lt. Col. Alison Gonzalez, as well as Howard University ROTC members.