Gilbert Cisneros, the Defense Department's (DoD) head of personnel and readiness will be stepping down in September, Military Times reported.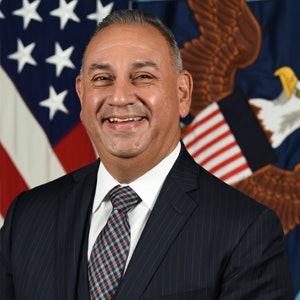 As Under Secretary of Defense for Personnel and Readiness, the Navy veteran and former two-term California lawmaker worked on issues including the Pentagon's newest abortion policy for military personnel and sexual assault and harassment prevention in the military.
He is the longest serving personnel and readiness under secretary, having served in the role since 2009.
"[H]e was a steadfast and faithful servant in the department's mission to take care of our people," Secretary of Defense Lloyd T. Austin said in a statement. "His commitment to the 'people first' approach helped the department improve the quality of life of our service members and their families."
Cisneros's efforts include working to implement 80 projects to reform military sexual assault and harassment guidelines and practices. Establishing some of these reforms has been slow, but that speed is methodical, Cisneros said in 2022.
"Getting this right requires we move on expeditiously as possible to implement change, while also ensuring we do not rush to failure," Cisneros said. "If we improperly rush now, we will not be able to pick up the pieces and establish trust with our service members again."
Cisneros was also a supporter of LGTBQ+ service members and chief of the Pentagon's diversity and inclusion office.
"It is a diverse talent pool that ultimately contributes to our success on the battlefield and beyond'" Cisneros said at this year's Pentagon LGTBQ+ pride event. "Diversity and inclusion are imperative to recruit and retain the best and brightest talent, we must ensure that we reach out to all communities."