Lt. Gen. Telita Crosland has stepped into the role of director of the Defense Health Agency (DHA) as of Jan. 3, Military Times reported. She is DHA's fourth director.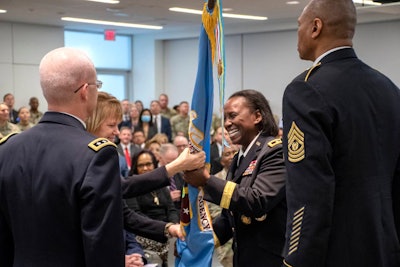 Her promotion ceremony took place on Jan. 20. Previously, she was the Army Deputy Surgeon General and Deputy Commanding General (Operations) of Army Medical Command.
Given her experience as a family physician, she said she focused beyond just the patient but instead the whole human being. Family medicine is about the holistic person, Crosland said.
"That will come out as I look at our health care system to make sure that ultimately that's what we're about…..improving the health of an individual, whether you wear a uniform, you wore a uniform, or you served side by side with someone who wore a uniform. We're very much about the human being," Crosland said.
Crosland stressed the importance of caring for all 9.6 million beneficiaries in the Military Health System. As the DHA implements a new version of the $136 billion Tricare contracts scheduled to start in 2024, Crosland said she would focus on integrating the two systems — the direct care through the military treatment facilities, and the civilian care through Tricare.
Consolidating hundreds of medical, dental, and veterinary facilities from the Army, Navy, and Air Force into the DHA, as mandated by Congress, was difficult, Crosland said. But the spirit of the health care has not changed, she said.
"We're still a military health care system that has to take care of the force, and the beneficiaries we're privileged to serve," Crosland said.