The Bob Parsons Veterans Center and The Bob Parsons Veterans Advocacy Clinic at The University of Baltimore have received a multiyear, $2.4 million grant from their namesake, Bob Parsons, through his foundation The Bob & Renee Parsons Foundation. A Baltimore native and UB alumnus, Parsons is a Marine Corps Vietnam War veteran.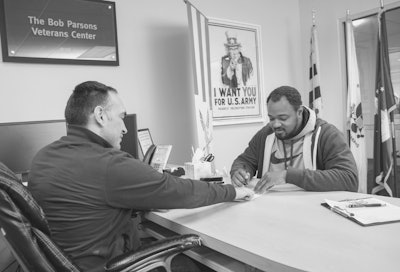 His latest gift will support a new full-time staff member at the veterans center, which currently reaches more than 300 veteran and military-affiliated students by offering mentorship programs as well as a designated space to study and participate in activities. By having a new full-time staff member, the center plans to offer more academic, career, service and social-based programming.
"It would have been a dream to have this level of support as I was transitioning from the U.S. Army into higher education," said Josiah Guthland, director of the veterans center. "I had a hard time transitioning from a combat environment into college because I did not have a group of people with whom I could connect. Having The Bob Parsons Veterans Center allows veterans to be part of a community that understands them and their experiences. Really, we are here to support the veteran and military-affiliated student population with the honor and respect that they deserve."
Meanwhile, the veterans advocacy clinic connects law students at the university with veterans who are facing legal difficulties after leaving the military. Serving as pro bono representation, the law students practice veteran advocacy through individual case representation and learn how legislative policy impacts the way veterans are treated by the legal system.
"The transition back into civilian life and getting a college education can be challenging," said Parsons. "Having specialized support and legal counsel when needed can go a long way in making successful transitions possible."
With the current grant included, Parsons has donated more than $9 million to the university since 2013, when the center and advocacy clinic were both founded. Last year, Parsons also established The Bob Parsons Scholarship Fund — the single largest donation to a scholarship program in the university's history. An entrepreneur and billionaire, he is founder of the GoDaddy group of companies and of YAM Worldwide Inc. As signatories of The Giving Pledge, he and his wife have committed at least half of their fortunes to charity.