The University of North Georgia (UNG) has announced the hiring of Col. Bryan G. Kirk, as a professor of military science.
"I'm really excited and honored to have been chosen as the professor of military science at UNG," Kirk said. "I've had the privilege to work throughout the past 24 years with several UNG graduates, and I can't think of one I wouldn't want to work with again."
UNG earned the MacArthur Award as the nation's top senior military college in 2016-17 and 2018-19. The Corps of Cadets has won the past three ROTC titles at the Sandhurst Military Skills Competition at the U.S. Military Academy at West Point.
Dr. Billy Wells, senior vice president for leadership and global engagement, said Kirk will be an asset to the Corps of Cadets as it seeks to maintain its high standards.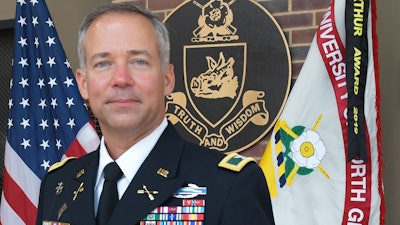 "We have always been fortunate with the Army's selections of officers designated to serve as our professor of military science. Col. Bryan Kirk continues that tradition of excellence," said Wells, a retired Army colonel and former professor of military science at UNG. "A Special Forces officer with considerable international experience, he is a perfect fit for our many programs and initiatives designed to provide the best academic and experiential foundation for a cadet seeking a military career."
College officials note that Kirk's experience will help him balance multiple goals as the professor of military science and has prepared him to lead a small team of Army officers and civilians that produces big results. As one of six senior military colleges, UNG commissions more than 100 officers into the Army and Army National Guard annually.
"We have this responsibility to produce great officers by working together, adding value where we can and looking for opportunities to continue to increase what we're able to do," Kirk said. "I'm coming into a very capable, high-performing team. My desire is to quickly become part of that team and contribute commensurate with my responsibility."
Kirk commissioned as an armor officer and has served in the U.S. Army Special Forces around the world the past 20 years. He most recently served as the director of operations for the Theater Special Operations Command for Central Command in Tampa, Florida.
Additional command assignments included deputy commander for the Joint Operations Group — Central, with teams deployed across the Middle East; 4th Battalion, 7th Special Forces Group (Airborne), at Eglin Air Force Base, Florida, with teams deployed across Central and South America; commander of C Company, 6th Battalion, 1st Special Warfare Training Group (Airborne) at Fort Bragg, North Carolina; and Operational Detachment-Alpha 364 in 2nd Battalion, 3rd Special Forces Group (Airborne) at Fort Bragg, North Carolina.
Kirk is a graduate of the Armor Officer Basic Course and Infantry Advanced Course, Special Forces Assessment and Qualification Course, Ranger Course, College of Naval Command and Staff, and the Army War College. He holds master's degrees in strategic studies and national security from the Naval War College and a Master of Arts in liberal arts from Louisiana State University. He earned a Bachelor of Science in mathematics from Campbell University.
His awards and decorations include Bronze Star Medals, Meritorious Service Medals, the Joint Service Commendation Medal, Afghanistan Campaign Medals, Valorous Unit Award, Meritorious Unit Citations, Superior Unit Award, the Combat Infantry Badge, the Special Forces Tab, the Ranger Tab, and the Military Freefall and Parachutist (Jumpmaster) Badges.