The shutdown of North Valley Military Institute (NVMI), a grades six-12 charter school that closed Aug. 25, was months in the making, according to NVMI officials and community activists, EdSource reported.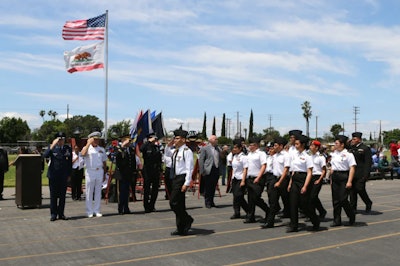 Founded in 2013, NVMI was plagued with problems stemming from not having a single, permanent campus location and having to rely on Los Angeles Unified School District (LAUSD) campus spaces for eight years, according to NVMI officials.
Activists instead attributed the closure to a myriad of factors, including alleged misappropriation of funds; unqualified teachers; insufficient disability services; poor academic performance; and widespread complaints of bullying and sexual assault. They also blamed the Los Angeles County Office of Education (LACOE) for allowing the school to continue despite the allegations.
News of NVMI's shutdown was abrupt, with parents notified via email of the closure – but only for the 2023-24 academic year – on Aug. 17, four days before the school began its fall semester.
"As the captain of the NVMI ship, I am responsible for everything that happens or fails to happen here, and ultimately, I am singularly responsible for not being able to overcome the challenges that we have faced," NVMI Superintendent Mark Ryan said in the email to parents. "An apology is so inadequate, but I am sincerely sorry for not being able to get us over the finish line and operate this school year."
Even the school's vote to permanently close had its issues. On Aug. 22, LACOE notified school leaders about the school's potential noncompliance with its memorandum of understanding, which required NVMI to remain effective even if the school became non-operational and until the school completes mandated closure procedures.
The vast majority of NVMI's students (over 95%) are from underrepresented minorities, primarily Hispanic or Latino, according to state enrollment data. NVMI's end leaves nearly 800 students and 180 employees with education or employment. The school subsequently hosted an enrollment and deployment fair for students and families to help them determine the next steps.
However, most of the school's students will not be able to attend other schools, given that the school's student population included those who had faced suspensions, expulsions, or time in juvenile hall, Ryan said.
"They pride themselves with serving students that are at risk," community activist Carl Petersen said. "I'm afraid those kids are going to fall through the cracks."
LAUSD is one of the educational entities who attended the fair.
"Los Angeles Unified has reached out on multiple occasions to support all families and students," LAUSD said in an Aug. 18 statement. "Given the school year has started for many students, the district reiterates our readiness to collaborate with families to ensure their children are in school immediately, and we call upon NVMI to do the same."