The University of North Georgia (UNG) has broken ground on its Wynne-Mathews Military Science Center a year earlier than originally expected, setting course for the building to be open for the Fall 2025 semester.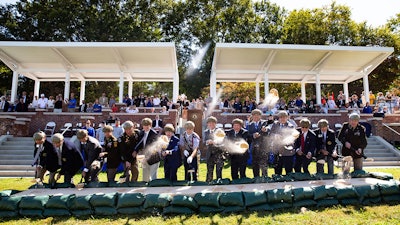 Funding for the center – it is set to provide modern academic spaces sufficient for teaching 1,000 cadets – has included $8.3 million from the state and $5 million from private donors. The center is the first of four planned facilities for UNG Corps of Cadets' modernization effort.
"UNG plays a vital role in our state and nation," University System of Georgia (USG) Chancellor Sonny Perdue said during the groundbreaking ceremony. "Your investment will continue to propel the Corps of Cadets to greater heights."
The center is named in honor of Army veteran and philanthropist Bob Mathews, '71, UNG Real Estate Foundation founding chairman, and his late wife, Mary Joan Wynne Mathews.