High school seniors looking to attend the University of North Georgia (UNG) as part of the Corps of Cadets will be able to pursue a scholarship to cover their tuition, school supplies, and room and board.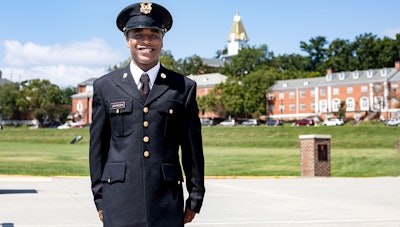 The annual Georgia Military Service Scholarship (GMSS) – worth more than $85,000 – is awarded to 42 seniors to complete bachelor's degrees at UNG and commission as Georgia Army National Guard officers after graduating.
"This scholarship provides ample opportunity to students seeking a top-level education at no cost to them," said Jordan Mund, Cadet Legacy Recruitment Network coordinator. "The GMSS is a wonderful way to propel our cadets into a wonderful service career, while also providing them a gateway to priceless education."
Senior and GMSS recipient Bentlee Roberson said: "It is a great setup for people who know that they want to be in the military but without the full-time commitment like on active duty. There is a balance of the best of both worlds of pursuing a civilian career and a military career. Receiving GMSS altered the projection of where I was going to attend college and what I believe my college experience would have been."
To be eligible, a high school senior must be a legal resident of Georgia; have a 3.0 GPA; receive a nomination from a Georgia legislator in their congressional district; meet Army National Guard enlistment standards; and agree to serve as an enlisted member in the Georgia Army National Guard while participating as a cadet at UNG.
"It allows me to focus on excelling at school and in the Corps of Cadets, something I don't know if I could have done as well if I was always worrying about paying for school," said senior and 2019 GMSS recipient Jack Rainbow.