Military members don't need to finish their service before they can access their education benefits — many can begin earning credits while still on active duty, whether at home and overseas.
"While much of the attention to education benefits for service members focuses on veterans, most of the U.S. military's 1.3 million active-duty personnel are also eligible for tuition assistance, a perk for which taxpayers spend nearly half a billion dollars a year," writes The Hechinger Report, a nonprofit news organization that spoke with several active-duty military members taking advantage of the program.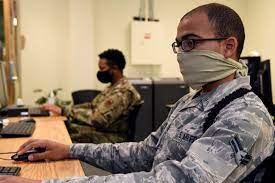 What Hechinger found, however, was that many of those active-duty members had trouble accessing their tuition benefits.
According to Hechinger, former marine corps leader Sam Brenner had encouraged the marines under his command to take advantage of the active-duty tuition assistance, only to find that one education provider didn't serve the base they were stationed at and another couldn't deliver classes to the ship they were assigned.
"We were in a unique situation, but at no point did anyone ask what our situation was and point us in the right direction," Brenner told The Hechinger Report. "Getting Marines educated while on deployment isn't a priority."
But there's another threat to accessing those educational benefits too: federal support. According to Hechinger, military branches have been trying to cut the active-duty tuition benefit in the past few years, despite the program rising in popularity during the downtime provided by the COVID-19 pandemic. Most recently, the Air Force attempted to cut its tuition benefit in 2020, but was met with complaints from airmen instead.
"That means that many service members — including medics and others in fields in high demand — have to wait to go to college until they leave the military," writes Hechinger, which cites Department of Defense data that reveals 236,992 active-duty service members drew on the tuition assistance benefits in 2019-20.