The Navy's pilot program, United States Naval Community College — created to improve the Navy's "intellectual advancement" — will soon begin its second test run after completing its first run from January to June, reports MilitaryTimes.com.
The new college, which is separate from the Navy's other educational initiatives, will give sailors the opportunity to earn an associate degree through online courses given in four phases. Sailors can study a variety of concentrations, from cyber security and network administration, nuclear engineering technology, data analytics, organizational leadership, maritime logistics and aviation maintenance technology.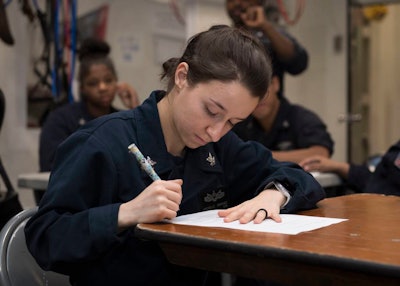 "The USNCC offers enlisted Sailors and Marines the opportunity to participate in world-class, naval relevant education programs," states a naval administrative message. "No tuition fees, mandatory course fees, or other course material costs are incurred by either participating students or parent commands."
Nearly 600 students participated in the first round and are now matriculating "into a degree-seeking status with the institution they were taking courses with," Chief Mass Communication Specialist Xander Gamble, a spokesperson for the U.S. Naval Community College, told MilitaryTimes.com. Approximately 5,000 Navy and Marine Corps students and 500 Coast Guard students are expected to take enroll in the pilot program's second round.
"It is imperative we have a more educated enlisted force, grounded in the understanding of current events, allowing them to add context to the actions they may be ordered to do," Secretary of the Navy Kenneth Braithwaite said in a news release on Jan. 7, when the pilot program was just beginning. "This will provide a critical advantage in any scenario, but specifically to the understanding of how they fit into our overall strategic goals and objectives."