Virginia Gov. Glenn Youngkin (R) will be the speaker at Virginia Military Institute's commencement, amid stress, controversy, and the public eye on the military school, The Washington Post reported.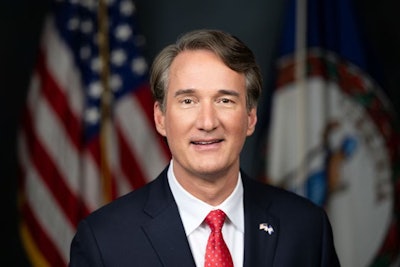 Youngkin, technically VMI's commander in chief, has been outspoken in his opposition to equity efforts in Virginia public schools, having questioned the Northam-ordered independent investigation into VMI's racial issues during his campaign for governor.
The Lexington military college – currently led by retired Army Gen. Cedric T. Wins, VMI's first Black superintendent – is currently facing issues on a number of fronts: financial, social, and athletic.
Such issues include declining applications leading to more lenient acceptance rates; projected budget shortfalls exceeding $14 million; potential cutting of some Division I teams; apprehension that the VMI Board of Visitors will remove Wins once Youngkin appoints as many as four new members this summer; and a mostly White conservative group of alumni who continue to criticize efforts to make VMI more attractive to minorities and women.
"The state of affairs at VMI is in a mess," former Virginia Gov. L. Douglas Wilder, the first elected Black governor in U.S. history, said in an interview. "General Wins has steadfastly addressed the issues, has tried to improve upon the current status, but he's been met with staunch opposition from a minority viewpoint from the Board of Visitors as well as dissident alumni, who are bragging that they've got the support of the governor relative to board appointments — and that's troubling. I'm concerned that a new board would remove Wins and, if they don't, they will make life miserable for him."
VMI accepted 969 students out of its 989 completed applications as of May 11, indicating a 98% acceptance rate, VMI spokesman Bill Wyatt said.
"It's embarrassing, our acceptance rate. It feels like I am going to a community college," said one rising VMI junior. "I am concerned about the value of my degree. If we're accepting everyone, what does that say about the quality of the program we're supposed to be?"
Applicants accepted into VMI's Class of 2027 had a slightly lower grade-point average (3.63) than students offered appointments in the last two years (3.69) with the class containing 58 people with GPAs of 2.74 or lower – more than double the prior year – and had the fewest number of accepted students with 4.0 or higher than the last three years, the Post reported.
To note, VMI is not alone in its high acceptance rate. Between 2021-2022, The Citadel's number of completed applications declined from 2,470 to 2,253 and their acceptance rate increased from 86% to 98.6%, according to the school's public common data sets.
The school – approximately 8% of its students are Black – has also been drawing attention due to issues of institutional racism, sexism, and sexual assault; the controversial anti-equity remarks made by Youngkin-appointed Chief Diversity, Opportunity, and Inclusion Officer Martin D. Brown at VMI in April; and an incident of the term "street thugs" allegedly being used by a high-ranking VMI official to describe Black freshmen on the football team.