Student veterans at the University of Virginia are claiming the school is taking a step back from promises made to support veterans, CBS 19 News reported.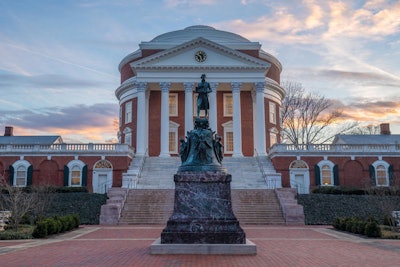 The criticism was prompted by UVA suddenly replacing part of their student veterans' center – established in 2021 – with a dean's office.
"They've taken our space without notifying or consulting us," said student veteran Romeo Sarmiento. The school removed the TV, the meeting room table, and service flags on the walls, he said.
Sarmiento has created a petition for the issue, "Reclaim the Veteran Student Center at the University of Virginia." It claims that the Student Veterans of America's UVA chapter has asked the school to explain.
"The root of the frustration came from the fact that we weren't told about this situation and we had to find out," Sarmiento said.
A UVA spokesperson said in a statement: "The Veterans Student Center in Newcomb Hall remains available for student veterans' use as their designated space. It's also worth noting that the intention behind this change was to place the Student Affairs staff member who supports veteran students in closer proximity to where they meet."
"He has a spectrum of duties and it's a small fraction of that that serves the veteran population," according to UVA.
UVA hasn't fulfilled recommendations from its own Cornerstone Project to support student veterans either, Sarmiento said.
"This is to highlight some of the larger issues at hand," Sarmiento said. "We hope to uphold the tradition of student governance and raise this awareness and bridge that civilian and military divide."