Alaska Rep. Don Young, who was the longest-serving Republican in the history of the U.S. House, has died. He was 88.
His office announced Young's death in a statement Friday night.
"It's with heavy hearts and deep sadness that we announce Congressman Don Young (R-AK), the Dean of the House and revered champion for Alaska, passed away today while traveling home to Alaska to be with the state and people that he loved. His beloved wife Anne was by his side," said the statement from Young's congressional office.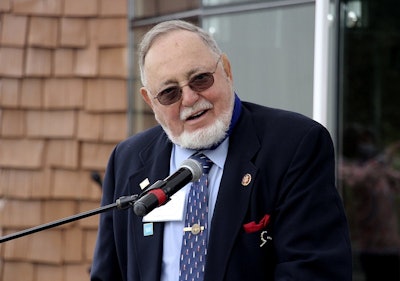 A cause of death was not provided. Young's office said details about plans for a celebration of Young's life were expected in the coming days.
Born on June 9, 1933, in Meridian, Calif., Young grew up on a family farm. In 1958, he earned a bachelor's degree in teaching at Chico State College, now known as California State University, Chico. He also served in the U.S. Army, according to his official biography.
Young came to Alaska in 1959, the same year Alaska became a state, and credited Jack London's "Call of the Wild," which his father used to read to him, for drawing him north.
He settled in Fort Yukon, Alaska, a small community accessible primarily by air at the confluence of the Yukon and Porcupine rivers in the state's rugged, harsh interior. He held jobs in areas like construction, trapping and commercial fishing. He was a tug and barge operator who delivered supplies to villages along the Yukon River, and he taught fifth grade at a Bureau of Indian Affairs school, according to his biography. With Lu, he had two daughters, Joni and Dawn.
He was elected mayor of Fort Yukon in 1964 and elected to the state House two years later. He served two terms before winning election to the state Senate, where, he said, he was miserable. He recalled that Lu encouraged him instead to run for U.S. House, saying he'd never win.
In 1972, Young was the Republican challenger to Democratic U.S. Rep. Nick Begich. Three weeks before the election, Begich's plane disappeared on a flight from Anchorage to Juneau. Alaskans reelected Begich anyway.
Begich was declared dead in December 1972 and Young won a close special election in March 1973. Young held the seat until his death. He was running for reelection this year against a field that included one of Begich's grandsons, Republican Nicholas Begich III.
In 2015, nearly six years after Lu Young's death, and on his 82nd birthday, Young married Anne Garland Walton in a private ceremony in the U.S. Capitol chapel.
The often gruff Young had a camaraderie with colleagues from both sides of the aisle.
As the House member with the longest service, Young swore in House Speaker Nancy Pelosi, D-Calif., when the 117th Congress convened on Jan. 3, 2021. Before administering the oath of office, Young expressed dismay about the period's intense partisanship.
"When you do have a problem or if there's something so contentious, let's sit down and have a drink, and solve those problems," he said, drawing laughter and applause.
Pelosi, in a statement, said Young's "reverence and devotion to the House shone through in everything that he did." She called him "an institution in the hallowed halls of Congress."
She said photos of him with 10 presidents, Republicans and Democrats, signing his bills into law "are a testament to his longevity and his legislative mastery."
Young, known for decades of steering federal spending to his home state, won $23.7 million for Alaska for water, road and other projects in the governmentwide $1.5 trillion spending bill President Joe Biden signed into law this week, according to an analysis of that bill by The Associated Press. It is one of the highest amounts for home-district projects that any House member had in the legislation.
He branded himself a conservative and won support with voters for his stances on gun and hunting rights and a strong military.
Fresh off a reelection win in 2020, Young announced he had tested positive for covid-19, months after he had referred to the coronavirus as the "beer virus" before an audience that included older Alaskans and said the media had contrbuted to hysteria over covid-19.
He later called covid-19, for which he had been hospitalized, serious and encouraged Alaskans to follow guidelines meant to guard against the illness.
Voters kept sending Young back to Washington, something Young said he didn't take for granted.
"Alaskans have been generous with their support for me because they know I get the job done," he said in 2016. "I'll defend my state to the dying breath, and I will always do that and they know that."