The Republican-controlled U.S. House voted 221-212 Jul. 26 to block the Department of Veterans Affairs (VA) from updating its motto to include female veterans, Military.com reported.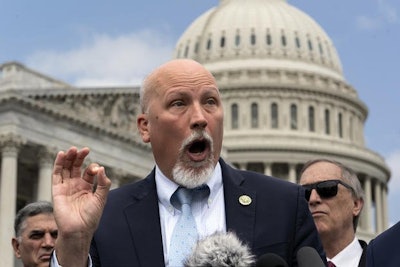 The current motto – based on a line in President Abraham Lincoln's second inaugural address – refers only to male veterans and is still emblazoned on bronze plaques on more than half of VA buildings. Per Republican efforts through an amendment in an annual VA spending bill, the organization would not be able to "modify or remove any display" of the mission statement.
The motto, if changed, would go from "To care for him who shall have borne the battle and for his widow, and his orphan" to "To fulfill President Lincoln's promise to care for those who have served in our nation's military and for their families, caregivers and survivors."
But Republicans have pushed back against this effort, claiming erasure.
"It's a good quote," Rep. Chip Roy (R-Texas), sponsor of the amendment, said on the House floor. "It's an historic quote. The fact is we should not use taxpayer dollars to allow this administration to unilaterally change the VA's historic motto and erase the words of President Lincoln to appease the radical left and advance yet another one of their cultural revisionist efforts."
This move is but another Republican effort to hinder the VA from supporting historically marginalized groups of people, such as by flying LGBTQ+ pride flags, providing abortions, or giving gender-affirming health care.
"This is 2023," said Rep. Debbie Wasserman Schultz (D-Florida), the ranking member of the House Appropriations Committee subpanel in charge of VA spending. "It's hard to imagine that we are actually debating a motto on the floor of the House of Representatives and having a member of Congress suggesting that that motto should remain exclusive of women."