Sen. Tommy Tuberville (R-Ala) has stated that he is not supporting for the next chairman of the Joint Chiefs of Staff, Gen. Charles "C.Q." Brown Jr., because the U.S. military "is not an equal opportunity employer," Spectrum News reported.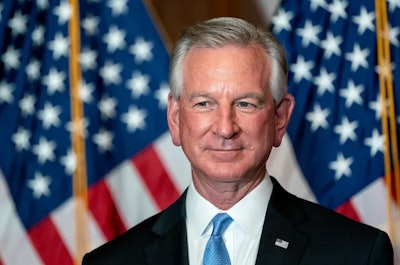 Brown was to be the first African-American man to serve as Joint Chiefs of Staff chairman. After voting against Brown's appointment to the role, Tuberville explained his rationale in a Sep. 26 interview with Bloomberg.
"I heard some things that [Brown] talked about race and things that he wanted to mix into the military," Tuberville said. "Let me tell you something: our military is not an equal opportunity employer. We're not looking for different groups, social justice groups. We don't want to single-handedly destroy our military from within."
On a factual basis, the U.S. military is indeed an equal opportunity employer, in that discrimination based on race, color, national origin, religion, sex, gender identity, or sexual orientation is banned.
Tuberville said he disagreed with Brown's comments on how the military needs more groups to have opportunities to be pilots.
"I want it to be on merit," Tuberville said. "I want our military to be the best. I want the best people, I don't care who they are, men, women, it doesn't make any difference. Catholics, Protestants ... I want everybody to believe in the one goal that we have in this country for our military is to protect the taxpayers, to protect United States of America. Don't give me this stuff about equal opportunity. Because that's not what this military is about. Talk about making the best, training the best and being the best of this world."
Tuberville's actions have drawn criticism from lawmakers and military officials alike.
"Since GOP Senator Tuberville never served in the military, he doesn't understand that the military is an equal opportunity employer. Our military does not discriminate based on race," Rep. Ted Lieu, D-Calif., an Air Force veteran, posted on social media.
Top military officials have also criticized Tuberville for blocking hundreds of officer promotions due to his opposition to the military's abortion policy. The senator is hurting military readiness and putting U.S. national security at risk, officials said.