President Joe Biden has threatened to veto the $826 billion Defense Department's 2024 budget plan because of its anti-reproductive care and anti-military diversity training provisions, The Military Times reported.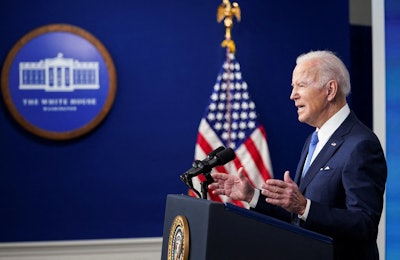 The plan – presented in the Republican-controlled House – has drawn criticism from Democrats, including those in the Senate, which is currently under Democrat control.
The White House's statement comes just days before representatives are scheduled to vote on it. Back in July, the administration similarly threatened to veto House Republicans' plans to fund the Department of Veterans Affairs (VA).
"The draft bills also include numerous new, partisan policy provisions with devastating consequences including harming access to reproductive healthcare, threatening the health and safety of Lesbian, Gay, Bisexual, Transgender, Queer, and Intersex (LGBTQI+) Americans, endangering marriage equality, hindering critical climate change initiatives, and preventing the Administration from promoting diversity, equity, and inclusion," the Sep. 11 statement read.
There is currently less than three weeks to go before a federal funding lapse would trigger a partial government shutdown.
Other concerns voiced in the statement include worries over provisions limiting climate change research; restrictions on reduction of Guantanamo Bay detention operations; changes to munitions procurement and microelectronics funding; a $1 billion reduction to DoD civilian personnel funding; and plans to increase basic pay for junior enlisted service members above a planned 5.2% raise next January.
The budget as written would not cover the full costs of the boosted raise, officials said.
"If enacted, this change would lead to pay compression in some areas of the enlisted military basic pay table, and would create an unfunded requirement of several billion dollars," presidential advisers said.