The National Organization for Women (NOW) and two groups representing veterans are suing the Department of Defense (DoD) and the Department of Veterans Affairs (VA) over health care coverage for fertility treatments, Military.com reported.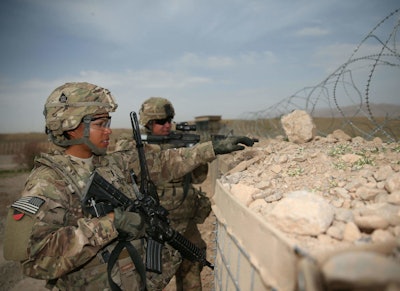 According to NOW's New York City chapter, the Yale Law School Veterans Legal Services Clinic, and the National Veterans Legal Services Program, the DoD and VA policies violate anti-discrimination laws by excluding single veterans, same-sex couples, and unmarried couples.
As it stands, the policies to access in vitro fertilization treatment require service members to be married, have a service-connected illness or injury, and be capable of using their own sperm and eggs to conceive. Barring the use of donor eggs or sperm leaves out even legally married same-sex couples with service-connected fertility conditions.
"The VA's refusal to provide IVF to [these] veterans is not merely a failure. It is blatant discrimination and bigotry," said Renee Burbank, director of litigation at the National Veterans Legal Services Program.
Although service members can use Tricare, the military's civilian health benefits program, for limited services related to infertility, the program does not cover IVF itself.
Jessica Quinter, a Yale Law School graduate involved with the Reproductive Rights and Justice Project, said the service-connected requirement of the fertility policies goes beyond what is normally required for VHA benefits.
Legislation introduced this year by Rep. Julia Brownley (D-Calif 26) to expand VA coverage of advanced fertility treatments to include those who are single; in a same-sex relationship; or need a donated embryo, egg or sperm, has not been considered by the House Veterans Affairs health subcommittee.
The Senate's version of the 2024 NDAA includes provisions that would add services such as fertility testing and intrauterine insemination – not IVF – for service members and Tricare beneficiaries, but not former troops, career retirees, or those medically retired from service or their families under Tricare.
Veteran Lindsay Church described their inability to carry a child due to ribs, sternum, spine, and torso damage, and how coverage for them was inaccessible.
"Despite my service-connected disability, I do not have access to vital fertility treatments such as IVF because my disabilities are not tied to my reproductive system and we are in a same-sex marriage," said Church, executive director of Minority Veterans of America and a member of NOW-NYC.
Starting 2024, Federal Employee Health Benefits program insurers will be required to cover artificial insemination and medication used for up to three cycles of IVF per year, but not required to cover donor sperm.
"Our nation makes them a solemn promise to take care of them and their families in return," Burbank said. "Too often, we fail."